The Post Quiz: Name the Place
Created | Updated Apr 26, 2015
What if your town's claim to fame is its name?
The Post Quiz: Name the Place
We look at the sign, and giggle. Match these places with unusual names to the county, state, or country of origin. No peeking at the map, now!
Place
Larger Entity

1770
Apocalypse Peaks
Batman
Bird-in-Hand
Catbrain
Emo
Gogogogo
Hole of Horcum
Moose Jaw
No Place

South Gloucestershire, UK
Durham, UK
Madagascar
Antarctica
North Yorkshire, UK
Ireland
Saskatchewan, Canada
Pennsylvania, USA
Turkey
Australia
Got them all? Click on the pic to see.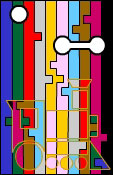 Post Quiz and Oddities Archive