The Post Quiz: Local Claims to Fame - Answers
Created | Updated Apr 12, 2015
Every place in the world is famous for something.
Local Claims to Fame: Answers
What makes most of these places famous, of course, it that they have Researchers living at or near them. Except for Sovetsk. We need a Researcher from Sovetsk, especially because the Post Editors like cheese. A lot.
Match these places to what they're famous for.
Place
Claim to Fame

Sovetsk, Russia
Pittsfield, Maine
Pontefract
Polokwane
Manchester
Lanzarote
Belfast
Pittsburgh
Tel Aviv
Frankfurt

Tilsit cheese (and a name change)
World's largest nonstick frying pan
Cakes and a castle
Rock paintings and wildlife
Canals, beer and rain
Tapas and beaches
Music and Bap
Steel and halupke
Sand and halva ice cream
Museums and green sauce
Now you know what to look for when you go visiting.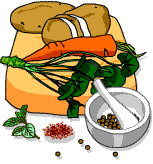 Post Quiz and Oddities Archive