The h2g2 Post 26.08.13
Created | Updated Aug 25, 2013

Posted: 26th August 2013

Listen to the Music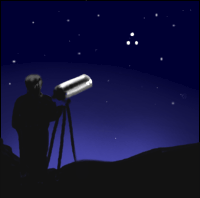 ...and she's buying a stairway to heaven...

Ever feel that way, when you look up at the stars? Like you'd just like to climb up and up and up...? Maybe it's the late summer nights – at least, the clear ones – but it seems like the warm weather, and the lightning bugs, make you want to get lost in that vastness out there. Maybe stick out your electronic thumb and snag a ride somewhere...

Have you been stargazing? Galaxy Babe has, and she'll tell us about it in this month's 'Babe Among the Stars'. Our eyes have been on the skies a lot, lately, what with the wave-at-Cassini initiative and such. While we watch, we listen, too: this week, our contributors continue to tell us what kind of music moves them, in answer to the August Create Challenge. There are still a few more days to get your submission in!

Awix and benjaminpmoore are back with news about films and job-hunting, in that order, and Willem's showing us another hornbill. He says that's another creature we can't have too many of, and we believe him. It's awesome. There's the usual snarkiness, of course.

As you get ready for back-to-school, or back-to-fall, keep h2g2 in mind. There are lots of things you can be writing about – from soup to nuts, and everything in between.

Enjoy yourselves out there, and keep writing!
BORN TO BE WILD


Silvery-Cheeked Hornbill.


WILD THING


 



CECELIA


 

IT SEEMS I'VE HEARD THAT SONG BEFORE

Different sheep, same clothing.


STAIRWAY TO THE STARS

 


 


 


 

FEEDBACK, SUBMISSIONS AND DISCUSSION


For submissions and editorial feedback



Chat about The Post with other

readers and the Team


The home of the h2g2 Post team