Sporting With Egon
Created | Updated Mar 19, 2004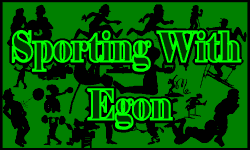 This week I tackle Ryder Cup golf, Peter Reid - who has finally been ousted from Sunderland AFC, the anti-climactic end to the ICC trophy and take time out to ponder on who can beat Arsenal?
CHEER UP PETER REID
'Cheer Up Peter Reid', is now making it's third consecutive appearance in my column. I do have somewhat of a vested interest in the fortunes of Sunderland AFC as I am a student at Sunderland university, and also, as an Everton fan, I worship the ground Mr Reid walks on. But he is out! He has finally been removed from his position as manager of the 'Black Cats'.
The origin of the expression 'Cheer Up Peter Reid' is the Sunderland supporters version of the Monkees song Daydream Believer, with the lyric 'Cheer up sleepy jean, oh what can it mean, to a daydream believer and a homecoming queen' replaced by 'Cheer Up Peter Reid, Oh what Can It Mean, to a Sunderland supporter to be top of the league'
That anthem was blaring out of Yates's Wine Lodge in Sunderland last night, as a postscript to Reid's managerial stay. But what most people here thankfully seem to remember is the fact that if it were not for the astute management by Reid earlier in his seven year stay,
Sunderland would be nowhere near the premier league now. He is responsible for the revival, the signings of his long time strike duo Niall Quinn (currently acting as caretaker manager) and Kevin Phillips.
In summing up where it all went wrong for Sunderland, it is helpful for me to quote something Jimmy Hill said on Radio 5 on Monday night: 'Peter Reid's problem was that he didn't have himself in the team, meaning that Sunderland were crying out for a hard-working, honest, passionate, hard tackling but talented midfielder like Reid was in his days at Everton. Lately it has become inevitable that Reid was on the way out as he no longer appeared able to motivate his players, and had taken to publicly criticising them. But the Sunderland fans won't forget what Peter Reid did for them in his seven years in charge, and hopefully they'll cherish their memories of him the way Everton fans do ours.
But where next for Sunderland, who will take charge? Well, with odds courtesy of Blue Square, here's my guide to the runners and riders in the Sunderland Manager's race:
Mick McCarthy (2/1 On Favourite) Currently manager of the Republic of Ireland, may be fed up of post-Keane pressure of the job
David O'Leary (6/1)- Sacked as Leeds manager in the summer, currently unemployed, good young manager.
Joe Royle (10/1)- Former Everton, Oldham and Man City manager, has been out of work since last summer, when he was replaced as City boss by Kevin Keegan
George Burley (10/1)- Manager of first division Ipswich, may be tempted by a chance to return to the premier League
Niall Quinn (14/1)- Player/Coach and senior pro at Sunderland, more likely to be groomed as a successor to the new manager
Gary Megson (16/1)- manager of West Bromwich Albion. I can't see him giving up his promising newly promoted side to take over at a struggling team like Sunderland.
John Gregory (20/1)- former Aston Villa manager, currently at Derby, like Burley he may relish a chance to have another crack in the big league.
George Graham (20/1)- Experienced former Millwall, Arsenal, Leeds and Tottenham manager. Not really expected to choose the Black Cats for his return to management.
Martin O'Neill (25/1)- Not a chance in hell. At Celtic he's in charge of a team with a permanent 50-50 chance of winning the league, and is trying to build a team who can compete in Europe. Would be mad to take over a relegation dogfight, and is far more likely to become Man Utd. Manager if and when Alex Ferguson ever retires.
FLUKEY, FLUKEY MAN UNITED!
Even Alex Ferguson admits it. Everton didn't deserve to lose 3-0 to Man Utd. Hell, we barely deserved to lose 1-0. OK, hands up, I'm a died in the wool Blue1, but when even Sir Alex
Ferguson says, 'We frittered away too many chances but it was unjust scoreline. This is the best Everton team to come here for years, then you know we aren't imagining it.
For 86 minutes, our solid defence held out Ruud van Nistelrooy and Co. Goalkeeper Richard Wright put in a bid for a return to the England squad. Central midfield pairing Thomas Gravesen and Li Tie performed very well. Tomasz Radzinski, Kevin Campbell and Wayne Rooney were denied by Fabien Barthez and Van Nistelrooy missed goals he'd normally
score in his sleep.
Then, with four minutes left, Paul Scholes opened the scoring, and Everton were crushed. Just three minutes later captain Davie Weir was dismissed for a foul, which allowed Nistelrooy to score a penalty, and when Scholes completed the 3-0 victory with another goal in stoppage time, the misery of Everton was complete. The heartbreak of conceding one goal took all the fighting spirit out of the team.
For Alex Ferguson to praise his opponents is rare, for him to admit that his team didn't deserve to win 3-0 is almost unheard of. Oh well, we'll just have to beat Arsenal in our next match to make up for it!
CRICKET: How Should England prepare for the
Ashes
There was an outcry from some cricket watchers when 5 of England's ashes squad, including the injury prone Nasser Hussain and Simon Jones, took part in Cardiff in an exhibition game of 'Power Cricket'. A bizarre new form of cricket designed to appeal to the younger
generation. Myself, I would have thought that our cricketers actually playing some cricket would be quite a good warm-up. I'm more bothered about the increasingly idiotic Darren Gough playing pro-celebrity golf when he's likely to miss the first two ashes tests through injury! Graeme Thorpe has sacrificed his international career by messing England about too much. Maybe it's time this arrogant imbecile from Barnsley is treated the same way.
MAJOR LEAGUE BASEBALL:The
play-offs
Last week I explained the concept of Major League Baseball's playoff system 2, and also the fact that last year the New York Yankees (who normally win) were beaten in the World Series by the Arizona Diamondbacks.
Well, the Yankees aren't going to regain their title this year, having lost their best of 5 divisional series by 3 games to 1 against the Anaheim Angels. If you don't know anything about baseball, think Hibernian knocking Real Madrid out of Europe. Anaheim are an
unfashionable team who don't normally even make the playoffs, let alone knock out the biggest baseball team in the world.
The Angels have lost the first game of the best-of 7 American League Championship Series against another small team, the Minnesota Twins, who got rid of much-fancied Oakland Athletics in the Divisional series. The Twins were actually on the verge of leaving the major
leagues last year because they weren't popular enough. Their choice looked like being either to withdraw, or move to a different city, such as Washington DC. I don't think they're in much danger of extinction any more.
The World Series will pitch the winners of the American League against the winners of the National League, and the NL Championship series is between San Fransisco Giants, who dispensed of Atlanta Braves, a club who normally reach at least the championship series, and St Louis Cardinals.
The Cardinals beat the defending champions the Arizona Diamondbacks, who have the best two pitchers in baseball. However, the Cardinals are playing for the memory of their team-mate Darryl Kile, who died of heart failure in a Chicago hotel room earlier this year. They have taken to hanging his jersey in the dugout on match days as a mark of respect. Now that my team, the Yankees, are out, I'm getting behind St Louis, in the same way that I was happy at the success of the Surrey Cricket team this year, despite the fact that I'm a Worcestershire fan, because they were doing it for the memory of Ben Hollioake. If the St
Louis Cardinals win the World Series this year; it will be a fitting memorial to their late team-mate.
If you want to get as excited as me abut baseball, then the official major league baseball website has up-to-the-minute scores, reports and information.
FOCUS ON BOXING
Last week I announced that if anyone requested a sport be included, I would do my best. Well, as a follow-up to last week's articles on farce in cricket and farce in Formula One, I now present farce in boxing. A report written by Master B on the latest Audley Harrison fight3.
'There was a very apparent lack of support for Audley from the start. Distinct boos (even though this is Liverpool, where they'll boo anyone)4, and chants of 'boring' in the first round - both
perfectly justified in my opinion. John Inverdale doing his best not to be cynical was quite amusing as well.

Audley's technique is distinctly lacking. He took out a third-rate boxer, sure, but his right hand dropped too often. If that had been Lennox Lewis, rather than Wade Lewis, Audley would be feeling it now.

A blatant lack of anti-commercialism on the BBC's part. Not only were adverts strewn across the ring, they were highlighted in the announcer's introduction. It must be acknowledged that the Beeb's move to back Audley was not sound judgment.'
Master B then asked me 'Are you brave enough to bring it up in the Post?' to which my answer is yes, but you're getting the credit/blame!
What should I write about?
If there's a sport you are a fan of, which you don't think I write enough about, leave a message either at the bottom of this article, or on my personal space, and I'll include a little something about it, as I did with Master B's boxing this week.
Egon
1I actually once tried to die my hair blue but it came out ginger
2If you missed it, check the archive
3I know, and wish to know, very little about boxing, so I'm just going to quote Master B.
4Angry Scousers please direct your complaints to Master B