Sporting With Egon
Created | Updated Mar 19, 2004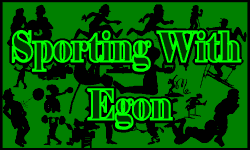 Cricketing woe, a false dawn for tennis, Fergie being stroppy, Reidy being needy, and various other sporting news.
AND IT STARTED SO WELL
The England Cricket team are already finished with the ICC Trophy. having won easily against Zimbabwe and batted well against India, their bowlers were utterly ripped apart by Virender Sehwag (126) and Sourav Ganguly (117*) as India strolled to an 8 wicket win with 10 overs to spare.
The emergence of Ian Blackwell, playing as the all-rounder in the absence of Andy Flintoff, was a bonus for England, as was Marcus Trescothick's performance against Zimbabwe. But the England bowling attack still lack the killer instinct that will be necesary if they are to get anything out of this winter's ashes tour and world cup.
Just to make things worse in the run-up to the Ashes, those of you who read my column last week (Yeah, like someone read my column last week!) may remember my scepticism about the wisdom of Thorpe and Gough being in the England squad for the Ashes? Well, Thorpe, who had already left the one-day side in the lurch in the middle of the summer, has pulled out at the last minute, and England are rumured to be considering Mark Ramprakash, Robert Key, Nick Knight and Ian Ward to replace him.
Me, I think they should give one last chance to Graeme Hick who, when on form, is the best batsman in England. Anyone who saw him plunder 315 not out against Durham, then declare the Worcestershire innings so that they could win, will know that if Hick had ever been given a good solid run in the team, he could be an England captain by now. He would certainly be a more sensible gamble than Thorpe was.
DOES ALEX FERGUSON READ MY COLUMN?
No, I don't think so either, but something he said after United's narrow victory over Spurs applies to last weeks 'Post-mortem' of Man U's season. Sir Alex sid 'some reporters1 seem determined to write us off2 but we can still win the title.'
Now my response to Mr. Ferguson's attempt to question the integrity and accuracy of this column and others is that yes, Sir Alex, technically Manchester United have every chance to win the title. But so do Everton and Sunderland. In fact, right now, even West Ham United can win the title. But it's not going to happen because, like Everton, Sunderland and West Ham, Manchester United are no longer good enough to beat Arsenal
CHAMPIONS LEAGUE + UEFA CUP
United are, however, capable of beating Maccabi Haifa, as they demonstrated with a 5-2 win over the Israelis last week, in which Diego Forlan, the thoroughly inept centre-forward who makes Ade Akinbiyi look like Ronaldo, scored his first goal of his 27 appearances for the club - but he needed to take a penalty to do so. So Diego Forlorn, as he was nicknamed last year, still hasn't scored from open play.
Elsewhere in the Champions League, last year's beaten finalists Bayer Leverkusen got tonked 6-1 by Olimpiakos, Newcastle played like chickens in Kiev, Liverpool were thoroughly outclassed by Valencia, and Arsenal sauntered to a 2-0 win over Borussia Dortmund

In the UEFA Cup, Leeds edged a 1-0 victory over a side I can't spell, Former Bristol City player Ben Wright scored a last minute goal for Viking Stavanger as they went down 2-1 to Chelsea at Stamford Bridge, Blackburn got a draw with CSKA Sofia, Celtic stormed to an 8-1 win over Suduva, Ipswich drew with FK Sartid, Fulham won 1-0 away to Hadjuk Split, despite having to put up with a torrent of vile racist abuse from Split fans, Aberdeen got a goalless draw with Hertha Berlin, and Rangers went down 2-0 to Zizkov
PREMIER LEAGUE ROUND-UP
Arsenal are still top of the league, with Liverpool 2nd and Chelsea, Spurs and Leeds coming up behind them in 3rd, 4th and 5th. Manchester United are still struggling in 8th, below Middlesbrough and Fulham, and things are looking increasingly bleak for Sunderland and West Ham down the bottom.
CHEER UP PETER REID
So, how long will Peter Reid remain manager of Sunderland following the inept performance of his side in the Tyne-Wear derby. I watched that match in a bar in Sunderland city centre, and the locals aren't happy, but many still like Reid and are in two minds whether they want a new manager.
An obvious reason for Reid's popularity is that he has achieved a lot at Sunderland. Were it not for him, the side may never have got into the Premier League.
But the fact remains that the performances this season, with the honourable exceptions of victory over Leeds and a draw with Manchester United, have been dreadful. It seems odd that it is two big teams that Sunderland have actually managed to perform well against.
Besides loyalty, there are two more main reasons that Sunderland will have to think very hard before sacking Reid. One is that Reid owns £3 million of shares in the club, so buying him out would be expensive, another is that, due to the closure of the transfer window, any new manager would have to continue with Reid's squad, unable to add to it.
Also, it would have been odd for chairman Bob Murray to sanction the signings of Tore Andre Flo and Marcus Stewart for a combined £10 if he was looking to get rid of Reid
I think if Sunderland can get a result against Aston Villa at the weekend, then Reid's job will be safe a little while longer. However, if they continue to play the way they have recently, he may have to go. What I think will be most likely is a defeat against Villa to be followed by Reid's elevation to Director of Football to be replaced by a young manager (perhaps a veteran player like Niall Quinn), or his demotion to assistant and replaced as manager by an experienced old hand such as Howard Kendall, Joe Royle or George Graham. What I don't think Sunderland can afford to do is get rid of Reid completely.
ATHLETICS WORLD CUP
Won by Africa (mens) and Russia (womens), with Britain's men finishing 7th, and the women not in it. The most disappointing moment was when Colin Jackson finished his last competitive international outdoor race ten seconds behind the rest, because he tripped over a hurdle.
DAVIS CUP TENNIS
So, Britain, led by an injured Tim Henman and lacking an even more injured Greg Rusedski, narrowly defeat Thailand, led by Paradorn Srichaphan, who beat Agassi at Wimbledon this year but has done little else in his career, and suddenly we're a great tennis nation again. Or that's what the hysterical news reporting would have you believe anyway.
But put any group from Henman, Rusedski, Martin Lee, Arvind Parmar, Jamie Delgado and Miles MacLagan up against the Americans or Australians and they would get destroyed. Britain is not a great tennis nation (or a great nation at any other sport for that matter), and the sooner the population as a whole, and the sports writers in particular, realise that, the better.
Egon