Sporting With Egon
Created | Updated Mar 19, 2004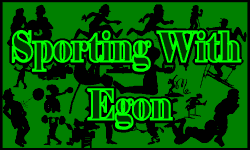 Hello, and welcome to my first sport column for a few weeks after an absence

enforced by the unforeseen explosion of my computer, but what a month it has been in my

absence.
KEANELY AWAITED NEW SEASON
The beginning of the football season has been overshadowed by a footballer you may be aware

of, a gentleman by the name of Roy Keane.
Keane, captain of Manchester United and very talented footballer, also has a tendency to

self-destruct. He has a long history of misconduct, one of the more recent examples being his

walking out of the Irish national team on the eve of the world cup after an argument with his

manager, Mick McCarthy.
The main Keane-related news right now is his book (or rather his ghost writer's book), in which

he has slagged off McCarthy again, along with most of the Irish national team, some of his Man Utd

team-mates and, especially, Manchester City's Alf-Inge Haaland. In particular he was referring

to the incident where he broke Haaland's leg with a vicious tackle, which he claims was

"retribution" for an injury he had received a few years earlier. The flaw in Keane's logic is that

his injury was caused by him making a reckless tackle on Haaland.
He got himself in more hot water during Manchester United's match with Sunderland. Former

Irish international team-mates Keane and McAteer clashed during the second half. McAteer

challenged Keane clumsily, an offence which referee Uriah Rennie saw fit to punish with a

free-kick, but not a booking. Keane clearly disagreed with this decision, and Rennie had to

restrain Keane from attacking McAteer. Then, in the dying seconds Keane casually swung an elbow

at McAteer's head, knocking him to the floor and forcing Rennie to show the Red Card. Keane's

boss, Sir Alex Ferguson, initially defended him after the match but once he saw the replay, he

withdrew his support. Keane has a fine, a three-match ban for the Red card and is facing another

potential ban for bringing the game into disrepute with his book. Meanwhile, Keane has opted to

have an operation that he needed which could now coincide with a lengthy ban. Also, Uriah Rennie

is bizarrely being charged with misconduct
by a referees' panel for restraining Keane
US OPEN TENNIS
Unsurprisingly, Tim Henman and Greg Rusedski were both knocked out in the third round,

Rusedski battling hard before going down in five sets to Pete Sampras, while Henman rolled over

and lay down in the process of his three-set humiliation had the hands of Juan Ignacio Chiela. The

Williams sisters are looking good in the Women's singles, Anna Kournikova failed in the first

round, LLeyton Hewitt and Andre Agassi appear to be the favourites for the Men's draw, and

Martina returned to grand slam tennis, reaching the fourth round before going out to Monica

Seles
CORRECTION
Looking at my last column, I noticed that I confirmed Arsenal's loan signing of Juventus

goalkeeper Hector Fabian Carini for a season as a replacement for Richard Wright. Since

then,the move collapsed due to Carini's excessive wage demands, and they chose instead to sign

Swedish-born Egyptian international Rami Shaaban instead.
Arsenal are currently second in the league table, with Spurs the surprise early pacesetters in

the premier league.
Egon