A Life on the Ocean Wave: Catch Up
Created | Updated Oct 3, 2010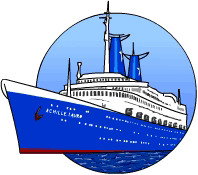 Hello. My name is Emma and I go on cruises. Mostly, so far on P&O ships out of Southampton, but other perfectly good cruise companies are available. ;-) When I can, I con my parents into paying for my ticket.


When I travel, I blog. If you would like to read it all, it can be found at my PS. The Post have asked me to proffer some edited highlights of my ramblings, which I shall now inflict on you forthwith. Enjoy.

Catch Up
What's catching up? Well, for a start, my M.E. is catching up with me. (For those who don't know what M.E. is, try Googling Myalgic Encephalomyelitis. Don't worry about the spelling, you start it, Google will auto-complete it for you!) Or you could just look at one of the best summaries I've ever found on the subject.
I REALLY need some rest. I spent 11 hours in bed last night, most of it asleep, give or take one or two attacks of leg cramps (classic symptom of ME), but the QUALITY of the sleep isn't very good (another classic symptom of ME). I can remember about four of my dreams from last night. That's not good cos it means you woke up a lot. They weren't very interesting, though, so I won't bore you with them. And I woke up in the morning tightly cocooned in the entirety of my double duvet, which suggests quite a lot of moving about. Suffice to say, I need more sleep. Proper sleep, however, which is becoming very hard to come by. I'm thinking I may need to resort to artificial assistance one night, just to give my system a proper rest. Can't do it tonight, though, because, despite the fact that the clocks go back half an hour tonight, tomorrow is a port day, Adelaide, and I can't afford to be too groggy for that kind of running around. However, after Adelaide we have two sea days before Albany, so maybe then. I can't go on much longer like this, I'm utterly exhausted. I'm irritable, grumpy, sound sensitive and light sensitive and my digestive system is really annoyed with me.
This is, of course, all partly due to the fact that we are now 10 or 11 hours adrift of GMT, which means entirely flipping your body clock. You have to wake when you should be asleep and eat when you should be dreaming. You have to sleep when your body thinks you should be up and about and eating, which means you have no appetite during the day and get ravenous at about 2am. It's ludicrous and it cannot possibly be good for you. What it must be like to live on a ship like this all the time and do it constantly, I can't imagine. It's one of the main reasons I haven't applied to do so. There's so much about this life that I think I would enjoy on a permanent basis and so many jobs I could see myself enjoying doing on board, but the time zone thing is absolutely devastating to me and there's no way I could get up at 8am and go to work feeling like this. The same problems apparently affect air crews, in much the same way that shift work affects nurses, doctors, police and firemen. You have circadian rhythms and when you fiddle with them, it affects you in quite astonishing ways. It's definitely not good for your overall health, and is apparently particularly detrimental to your immune system. It's not as bad if you simply flip your body clock and leave it there, like I did when I worked nights. Fixed shifts don't cause the same problems. It's when you keep changing your shifts or hours or time zones that you get problems. And that's if you're healthy to start with, which I'm not! Talking of which, time for a nap, I think.
And talking of catching up, I've got a few ports to update you on. Melbourne was a lovely day. Mum's old school friend, Hannah, and her daughter, Jenny, met us at the port. They're lovely. And I met up with a friend I made on the internet about three or four years ago, Fiona. She was lovely too! We all piled into Jenny's people carrier (she has four kids so...) and they drove us around town showing us the sights and the architecture (old and new). Then we drove into the Dandenong Hills, via Ramsey Street (yes, Neighbours' Ramsey Street!). We had a lovely lunch, served to us, oddly, by a lovely bloke from Shropshire. Then we boarded the Puffing Billy, a small gauge single line steam train that took us from Belgrave to Lakeside, where Jenny met up with us in the people carrier. I love steam trains. I have no idea why, but they just make my heart stop. They're so beautiful, they smell so good and they make such wonderful noises. When it was waiting at the station and picking up steam pressure, prior to departure, our engine was making noises just like Ivor the Engine and when we got to a steep incline, you could hear him saying "I know I can, I know I can, I know I can". Stupidly enjoyable and amazing views across the countryside above the city. Surprisingly green, this part of Australia. I've always imagined Oz to be more Alice Springs/ Uluru/ bush-like, but this bit is actually very green indeed.
Adelaide was brilliant. Despite the 40 minute drive into the city (and, ergo, back again) and the fact that it was a Sunday, so the Central Market and several other shops were closed, the architecture was interesting (again with the art deco and some really interesting modern stuff literally next to beautiful old Victorian and Edwardian frilly bits), the people were lovely, the clothes were expensive but available in my size (so it would have been rude not to buy them, after they'd gone to all that trouble...) and the weather was lovely. We were predicted 71 Fahrenheit (19/20ish Centigrade) and 60% chance of rain. It actually was over 80 F (28/29 C) and sunny and the rain didn't come down until after 4pm, when we were already on our way back to the ship. There is a circular bus route in the centre of town which is every half hour, every day and completely FREE. (If you're in Adelaide, you're looking for the 99C route.) We took a ride on it, which allowed us to see more of the city without our legs falling off. We were all particularly intrigued by a series of thirty foot inflatable astronauts climbing over several of the buildings and standing in the parks. Advertising for the Adelaide Fringe Festival, apparently, but very entertaining to find when you turn a corner! The little girl astronauts had pink skirts on their spacesuits! Very cute.
Later, when I was getting ready for dinner, I started to feel nauseous. Not "oo-er the ship's moving quite a lot" nauseous, but "something you ate is fighting back" nauseous. I went to dinner anyway, but felt so rotten I barely stayed five minutes before heading back to the cabin and to bed. I just went straight to bed and conked out. At 7pm. I slept most of the night, on and off. I've narrowed down the cause to the afternoon tea. When we got back on board, the gangway was next to the restaurant, so we went in for tea. I'd never been to afternoon tea before. It's ever so posh. There's three tiered silver tray thingies with little cakes on and a waiter carrying a tray about an acre wide with his own body weight in sandwiches on top and tea and coffee and toasted crumpets and toasted teacakes. I had one teacake and a small slice of fruit cake. I think the mistake was the pint of orange juice and four glasses of water. Just a hunch, you understand, but as the Romans used drinking too much liquid as a purging method, I suspect I'm on the right track... Anyway, apart from feeling oddly hungover today (explain THAT one if you can!), I'm fine, but it caused quite a stir, apparently. Everyone was quite alarmed. But it was only temporary. No harm done. Just mustn't allow myself to get that thirsty in future.
Time is running very slowly today. I must have loads of energy or something. Every time I've glanced at my watch, I've done a double take in case it's stopped. It hasn't, I'm just moving faster than usual! I've had a huge sort-out of all the papers, notes, port guides, daily newspapers, souvenirs and maps that I've accrued so far on this cruise. I'm going to need a bigger bag! I covered the entire bed and even after I weeded out the unnecessaries and completely filled the bin to overflowing, I still have WAY too much stuff left. Granted, some of it will go into the scrapbook when I get PROPERLY organised and have the time, inclination and energy to sit down and stick everything in, but for the most part, I just have accrued too much stuff. You see, the trouble is, not only am I hoarder by nature, total squirrel, always have been, but I'm also an "it might be useful later" person. Hence the map stowage. I might never visit Hiroshima again, but if I did, I'd be well narked if I'd thrown away all my maps and stuff. Granted, new ones aren't hard to come by, but still... particularly in view of the dubious quality of the port guides, as I may have previously mentioned.
Anyway, now we have two sea days as we traverse the Australian Bight towards Albany. Bit bumpy today. It's funny. I don't THINK this ship is made of wood. It seems to be all metal and stuff. Yet when the ship moves in certain ways, it creaks just like a wooden ship. If you've ever seen Hornblower or Amistad or other seafaring films or shows, you'll know the sound. Maybe it's the wooden wardrobes?!
Ships have two main kinds of movement: pitch and roll. If you're standing in the middle, facing forward, pitch is front to back up and down. Like boats do in cartoons, or the little car does on the BUPA advert. Up the hill and down the other side. Like the start of a roller coaster, for want of a better analogy. Rolling is side to side. The left side goes up as the right side goes down, and then down as the right side goes up. My cabin only creaks like the Grand Turk (the ship used in Hornblower that used to be moored opposite my flat in Tower Hill/ St Katherine Docks) when we're doing both at once, pitching AND rolling, which doesn't happen very often, it's usually only one or the other, because the captain turns into the wind/waves to reduce movement. But bearing in mind the weather we're running ahead of (sorry, Brisbane and Melbourne!), it's hardly surprising we've got both right now. Indeed, having seen the pictures of Melbourne on the television yesterday, I couldn't help but remember what I said in an earlier piece about us being a jinx to the places we visit. This is the itinerary of this cruise. You'll see what I mean...
Barcelona - Last week Spanish cruise ship hit by nine metre wave killing two
Piraeus (Athens)
Port Said
Sharm El Sheikh - Last week cruise ship crashes into pier killing three crew
Salalah
Muscat
Dubai
Mumbai
Kuala Lumpur
Phu My (Ho Chi Minh City)
Halong Bay (Hanoi)
Hong Kong
Beijing - After we left, an earthquake measuring 5.0
Hiroshima
Osaka
Okinawa - After we left, an earthquake measuring 7.0
Townsville - More rain in a month than in previous four years put together
CRUISE HALFWAY POINT
Brisbane - After we left, rain and flooding
Sydney
Burnie
Melbourne - Days after we left, tennis ball-sized hailstones and flooding
Adelaide
Albany - next stop!
Fremantle
Geraldton
Singapore
Phuket
The Maldives
Mauritius
Reunion
Durban
Cape Town
Walvis Bay
St Helena
Madeira - About two weeks ago flooding and mudslides kill 50
That's eight out of 35 places or slightly under one in four. Like I said, if I saw a P&O cruise ship heading towards my town, I'd just head for the hills and be done with it. Just turn off the gas and leg it.
Talking of natural disasters: Haiti, Beijing, Chile, Ryukyu (Okinawa), and now, today, Turkey. Never mind the weather, what the heck is going on with the Earth's tectonic plates all of a sudden?!
A Life on the Ocean Wave Archive