The Quest
Created | Updated Mar 21, 2002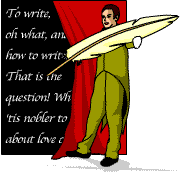 AUTHOR'S NOTE: This story is a work of fiction. Characters are intended to be amusing caricatures of their h2g2 counterparts, and the author means no offense in the use of researchers' names and characters. I don't even portray sea accurately. In short, please do not be offended. Your inclusion in the story simply means that I like you, so be flattered!
CHAPTER SIX
sea heard the shots before she felt the impact, and it was lucky that she was holding onto Yo because all the strength suddenly went out of her legs. She cried out and slumped against Yo, who dragged her behind her car as a volley of gunfire erupted from the house in response to the shooter. sea grimaced and put a hand on her upper arm, where the bullet had hit. She fought Yo as he pried her hand away to examine the wound, then covered it with his own hand.
'It's not bad! It will probably bleed a lot, and you're going to feel very faint, but it's nothing serious!'
Yo shouted above the din.

'Let's get you inside and get that cleaned up!'
Uncle Heavy lay as flat to the ground as he could, praying that the people shooting at him wouldn't hit him. Zark! Why on earth did sea have to go straight to a place where everyone had a zarking gun?! Suddenly, the gunfire stopped. Not waiting to find out why, UH made a hasty exit to his car, and sped away.
Little did he know that he was being followed.
sea growled as Yo cleaned her wound; the antiseptic burned fiercely and her arm throbbed. Yo told her about his army's progress to try and distract her, but she lapsed into a brooding silence. Yo wrapped her arm in gauze, watched her for a moment, then reached out and poked sea in the stomach.
sea shrieked and fell off her chair, partly due to the fact that she wasn't expecting the poke, and partly because she was insanely ticklish. Yo began laughing as she glowered at him from the floor. Then, sea grinned widely, and pounced on Yo while his guard was down.
sea climed into her car - which was mercifully unharmed - then glanced back at Yo, who was hanging from the large tree in his yard by his ankles. She turned the key in the ignition, winked at him, and drove off.
'That's my girl,'
he said.
sea made a few calls while she drove, making arrangements for her team. She knew exactly who she was going to need; she had worked with all of them on previous assignments.

'Gw7en, Marv,'
sea said to their answering machine.

'Call me ASAP. I've got a job for you.'
Late that night, sea poured herself a glass of scotch and turned to the lot at the table.

'We have six days until the 100th anniversary of the night DNA got his idea. This--' *SMACK* went sea's hand on the map '--is the field near Innsbruck where he got the idea for the Hitchhiker's Guide to the Galaxy, and the most likely site for the underground fortress. According to the research Gw7en and Marv--'
'Present!'
trilled G7, sodding drunk. She giggled.
'--according to the research G7 and Marv did BEFORE they got smashed, the fortress entrance will open for one hour on the exact moment DNA got his idea.'
sea continued, shaking her head.
'I thought Uncle Heavy told you it was the 100th anniversary of DNA's death,'
said Afgncaap5, frowning.
'Yes, that's true, but surprise surprise, Mr. Three-tries-to-pass-Myths-101 was wrong.'
Sea grinned, taking a drink. Then her voice grew cold.

'Or, perhaps he lied.'
Sea shook her head and smiled.

'Regardless, we know the truth now.'
'So what are we up against?'
Yo leaned back and put his feet up on the table.

'Please say that I'll get to blow stuff up.'
'Not only do you get to blow stuff up, but you also get to be in charge of firepower. And, as per our usual agreement, you are free to use anything you like in my storeroom, and this time I'll let you keep anything you want. In return, you guarantee that you will always come to me first for your weaponry needs.'
Yo wondered if she was giving him that blank check in an effort to keep him quiet about her distress earlier that morning, but then he saw that sea was - quite simply - drunk.
'Gw7en and Marv are here to hack into the computer security system and shut down the automatic intrusion countermeasures. Affy is here to decipher the riddle at the entrance and generally to advise on proper adventurous behaviour. I am here to co-ordinate things, conceal the buyer's identity, look smashing in leather pants, and basically take credit for the entire escapade. Any questions?'
sea was vaguely aware of Yo staring at her, but she ignored him.
'I'm not driving,'
said Marv.
'Is that a question or a declaration?'
sea giggled, nodding at the red-jacketed bartender. He handed Yo another martini - shaken, not stirred.

'All right, then. We fly to England bright and early tomorrow. 9am. I trust you will all be suitably hung over. Cheers!'
They all raised their glasses, and proceeded to get plastered.
What?! No cliffhanger ending?! What does this mean? What is sea plotting?! Or was she just too busy with the SWUS meet-up and the meeting she's late for? Tune in next week for the quest, in England!