The h2g2 Poem
Created | Updated Aug 28, 2003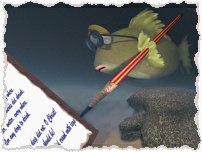 I was amazed by how long this poem took to gestate.
The encounters it refers to began one March, and ended in July. And although I was aware of what I have written about at the time, I focussed on the physical. It was, after all, a physical affair. I tried writing about it in May and June, but it was another eight months before I realised that the pysical was a metaphor for the emotional, and vice versa. When I finally came to sit down, I wrote it in seven minutes flat. Being an irony-junkie, I am very aware that I would not be treading lightly if I sent it to the guy it is written about...
Treading the Earth Lightly
I had not realised how much I bit and scratched.

But you must be given back whole and unmarked;

and our time together must be un-noticable.
So I halt and hold back.

Return to my mind.

Restrain my self a little, and move on

here, and here, and here instead.
As it is with our bodies, so with our selves -

A question takes you into private spaces:

you do not answer,

I do not ask again.
This caution is new for me.

I am learning how to do it.

To respect the life you have outside this bed;

to enjoy the interlude;

to thank you;

and, leaving no signs, move on.