John Ridgway Save the Albatross Voyage 2003-4: Introduction
Created | Updated Jun 16, 2005
AIM: TO PREVENT THE NEEDLESS SLAUGHTER OF THE ALBATROSS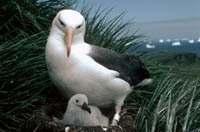 ALBATROSSES ARE DYING IN THEIR TENS OF THOUSANDS.
ALMOST FOREVER, THESE MAGNIFICENT BIRDS HAVE FLOWN UP TO 2,600 KILOMETRES A DAY AROUND THE SOUTHERN OCEAN. BUT SOON THEY WILL BE NO MORE. ILLEGAL LONGLINE FISHING WILL KILL THEM ALL.
I could not stand by and watch this happen. So, in 2003, I put together and funded, an entirely independent voyage round the world, aimed at raising public awareness to the plight of the old Bird, so as to prevent its needless slaughter. My volunteer crew, experts in their fields, gave up a year of their lives to help me. This was the very most we could do at that time.
To save the Albatross, all that is needed is a willing captain - on every fishing boat.
John Ridgway, Ardmore, IV27 4RB NW Scotland. June 2005.
In late July 2003, under the flag of the United Nations Environment Programme, the yacht English Rose VI sailed from Ardmore, NW Scotland, bound for the Southern Ocean. Once in the South Atlantic, the yacht headed eastward, following the great bird's circumpolar track right round the world, crossing the fishing grounds and stopping at Cape Town, Kerguelen, Melbourne, Wellington and Port Stanley in the Falkland Islands along the way.
Throughout the voyage, a direct link with the Internet, to www.savethealbatross.org (on BBC's H2G2 website), was used to share images and stimulate discussion, with a world-wide audience, about how the needless slaughter of the symbolic albatross, could and must be prevented.
This was my third circumnavigation in this boat. Married forty years and a 65-year-old grandfather, State Pension Book in hand, Marie Christine and I were deliberately un-sponsored.
It was a personal effort.
In April 2004, two months before we were due to return to a high-profile Reception at London's Tower Bridge, UK finally signed ACAP. We had gathered 105,000 signatures from 131 countries, which we went on to present to the United Nations Food and Agriculture Organisation in Rome, in June 2004.

"THE VALUE OF THE JOHN RIDGWAY SAVE THE ALBATROSS VOYAGE IS ITS INDEPENDENCE AND DEDICATION. IT'S THE FACT THAT THE ISSUE IS SO IMPORTANT THAT A BUNCH OF INDIVIDUALS, DELIBERATELY UNSPONSORED AND INDEPENDENT, ARE VOLUNTEERING THEIR TIME AND RESOURCES TO DO SOMETHING ABOUT IT."
Anonymous Prominent Environmentalist May 2003.

Now go to the Contents and visit other pages about the Voyage.