BUR Media Group
Created | Updated Aug 5, 2011
In 2003 BUR Media Group (via BFC Media) took another step into Russia's media industry by setting up a new English company, BFC Media, to build own and operate Moscow's first IMAX, the Nescafe IMAX, together with a miniplex of four 35mm cinema halls.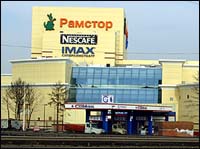 The BUR Media Group evolved from the East West Creative Association ("EWCA"), the first cultural joint venture set up in the Soviet Union in 1988 by the UK's Central Independent Television. In its early days as EWCA the company was both a film distributor and a film and event facilitator and oversaw the productions of a number of acclaimed series including, The Realms of the Russian Bear Michael Palin's Pole to Pole for the BBC, Sharpe (The Napoleonic drama series with Sean Bean) and the Ford London New York Overland Challenge for Independent Television (ITV).
EWCA started film distribution in 1990 with Gone With The Wind. This was the first film distributed in Western style in the Soviet Union. At the time EWCA represented UIP theatrically but later started to represent Columbia Tristar (Sony Pictures) and Buena Vista (Disney both theatrically and for home entertainment. At the time of the takeover of Central Television by Carlton PLC, EWCA's management acquired Central's shares in the company through a management buyout and BUR Media Group was formed.
BUR Media Group consistently invested back into the media industry in Russia, through this commitment to the future it built a loyal and experienced staff many of whom have been with the company for over ten years
BUR Media Group became the parent and co-owner of a number of media companies based in Russia and other CIS Republics and via Cascade Films completed production of its first animated feature film Prince Vladimir.