22 Acacia Avenue, the H2G2 Hard Rock and Heavy Metal café
Created | Updated Jan 16, 2004
If you're feeling down depressed and lonely

I know a place where we can go

22 Acacia Avenue, meet a lady we all know


-Iron Maiden

22, Acacia Avenue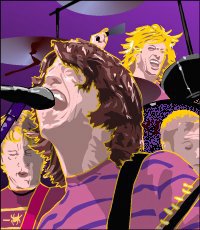 As you walk into the café, you are almost knocked flat by the sound of the band in the corner covering a rock band. The guitars screech, the drums roll, the singer grunts and hits himself over the head with the microphone. Once inside, you join the crowd, drinking

and

.

Despite the music, everybody seems to be able to understand each other.
So, grab a pint, request a song from the band, and join in the fun!


links and stuff
links
Rammstein
Iron Maiden
Slayer
Saxon


Anybody know any more guide entries?


Events

If you hear of some upcoming event, leave a post down below.

New albums

Do I need to explain it again?