Review of G-SR11 - my very own plane
Created | Updated Aug 29, 2003
When Pilot published this flight test in September 2001, the aircraft was known as the Sky Raider. Shortly after this, the aircraft was renamed Easy Raider by its UK importer, Reality Aircraft.
Test By Sqn Ldr Tim Cripps.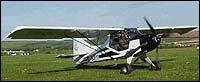 IT IS GOOD to see a new Small Light Aircraft (SLA) which deliberately sets out to fulfil the 'fun flying' spirit of traditional microlighting. The Sky Raider does not pretend to be a lightweight GA tourer, exploiting every kilogram of the 450 kg limit. Instead, it offers the sort of affordable farmstrip flying which Cub pilots enjoy. Indeed, it is quite similar to the Cub, not least in its performance and docile handling.
I was fortunate enough to join the team of test pilots evaluating the Sky Raider at Old Sarum, so I gained an unusually extensive insight into this little plane in all sorts of tests and extremes of C of G. What I saw impressed me.
The importer, Terry Francis, has wanted his own plane since 1975, after acquiring a little experience with RAF flying clubs in Germany. He built his own Quickie 2, which took him seven years, and ended its short life in a take-off accident at Thruxton. Undeterred, Terry went to Sun 'n Fun, where he saw the Sky Raider and fell in love with it. The makers, Flying K Enterprises, were keen to get into the British and European markets. They therefore gave him every support including supplying two kits, one assigned for testing, if necessary to destruction and eventual replacement. At every stage they have readily adopted the small improvements suggested by Terry and by Guy Gratton of the BMAA, and have even incorporated them into their American kits. So the Sky Raider has made unusually fast progress through the approval process.
In line with the trend towards quicker and easier building, Terry is offering kits with all of the critical work already completed. Dedicated builders may still choose to do more themselves, for instance, bonding the plywood ribs to the tubular alloy spars, and Terry will assist with jigs if they like. He will also help with the Polyfibre covering if first-time builders are diffident about that. But essentially, this is a very quick and easy kit to build. Terry reckons it takes only three weeks for him and his friend, Tom, to build one. That is with both of them working eight hour days--and some of that time is spent waiting for paint to dry.
As to the skills required, no one needs worry! To check the clarity of the American build manual (which is being slightly Anglicised), Terry set Tom various tasks to do solo, such as building an aileron. Tom, whose DIY skills until then had not extended beyond hanging shelves, had no trouble at all.
The quality of the kit is excellent. Everything is of fully aircraft grade material and the welded steel tubing is all beautifully powder coated (metallic paint) in whatever colour the customer desires. Some of the paint has inevitably clogged the bolt holes and the builder has to ream these out before fitting the bolts. Terry says the only challenging job is stretching and fitting the eight turns of undercarriage shock-cord, and he can even help with that if needed. Furthermore, the major components are all so small and light that one really can do the work in a typical one-car garage.
The wing is a masterpiece of lightness and simplicity. Its front and rear spars are both 21Ž2 inch diameter alloy tubes, to which are bonded preformed ply ribs, together with drag/anti-drag diagonal bracing struts. There is a slight under-camber, which contributes to the relatively high fineness ratio of 9:1. There is one-inch washout i.e. between 1° and 2°, and the trailing-edge is equally divided between ailerons and flaps, both of which are slotted. The aileron hinges are quite deeply inset and thus give some Frise effect. They are operated by cables, one of which runs externally up the rear lift strut. There is very little break-out and friction. The flaps work by double Bowden cables acting on arms connected to torque tubes in the roots. There were several problems with the flap lever, but production models should have a much improved lever, possibly fitted above the pilot's left shoulder instead of on the floor, where it was obstructed by the passenger's leg! The flaps can be set at zero, 15°, 28°, and 40°. The latter position provides plenty of drag for steep approaches into tight strips.
The wings have turned-down, composite tips, exactly like the Shadow, and a twenty-litre polypropylene fuel tank fits in each wing-root, where the contents can easily be seen against calibrations marked on the root ribs. The wings have been cleverly designed to hinge from the rear spar and base fitting of the lift struts. Fuel tubes and control cables are unaffected by the wing rotating rearward and so nothing has to be disconnected or rerigged. This is why the Sky Raider can be readied for flight in just nine minutes from arriving on its trailer. All you have to do is to remove the two temporary struts, which support the wings alongside the tail fin, rotate the wings forward and insert two locking pins in the front spar tubes--really easy. A custom-built trailer is available for about £2,000, conveniently equipped with a hydraulic tilting mechanism and a winch.
The tail feathers are typical 1Ž2-inch welded tube, 'flat-plate', Polyfibre covered, with fin and tailplane strut- and wire-braced together. Both rudder and elevator feature a sizeable horn balance. During flight testing, we found the fin area to be rather too small. But Terry fitted a fillet where the leading edge of the fin meets the fuselage. This proved effective and aesthetically attractive. It will be standard on production models.
The rudder is operated by cables running in nylon sleeves and is coupled to the tailwheel via strong tensioning springs. During our directional stability tests, Terry fitted additional springs, which attach the rudder control crank to the fuselage and provide a self-centring action and more positive force gradient. These will also be standard.
Side-by-side planned
The fuselage is well-engineered, of welded tube and Polyfibre construction. The metallic powder coating is attractive as well as affording excellent protection against abrasion and corrosion. The cockpit is adequately spacious, though, if you are tall, you would find the rear seat a bit cramped. Even at 5 ft 10 in I found the rear seat headroom marginal, but there are plans for a recontoured Lexan turtle deck, which should give an extra three-inch clearance. The rear seat has no dual control--the plane was derived from a 245 lb U.S. Ultralight single-seater--but the U.S. manufacturer apparently has plans to build a side-by-side version later. It could well make an effective and economic trainer.
The front seat is comfortable and there is plenty of room for maps etc. We even flew with 30 kg of gravel ballast lashed to the floor beneath our legs for the max load performance tests! The rudder pedals are 37 inches from the backrest and the headroom is 371Ž2 inches. The front seat is adjustable fore and aft over a sixteen-inch range, but is usually set four inches from the forward position. The rearmost position would undoubtedly compress the passenger and affect the C of G! But this should not be needed--there is plenty of room for long-legged pilots to bend their knees without catching them on the panel. The cockpit width is 28 inches at shoulder height and 24 inches at seat height--roomy enough for all but Sumo wrestlers!
The Lexan doors extend to floor level, giving an excellent view, but the gaps around them allow more than adequate ventilation. Terry has plans for overlapping the Lexan and perhaps fitting rubber seals for cosier flying in Britain's winters. The doors hinge from the top and hold open by Velcro contact below the wing. This makes for easy access. The doors can be removed quickly for fine weather flying or photography--the aircraft is very pleasant to fly in this configuration.
The combination of a low cowling line and high pilot eye-level ensures a first class view over the nose and one can even see the ground directly ahead while taxying. Both seats have four-point harnesses and behind the rear one there is a sturdy nylon-webbing baggage sack which could fit a normal holdall--or 15 kg of gravel! Also behind the seat is the collector tank for the two wing-tanks, and a water drain which exits below the floor and is conveniently located so that one can catch the residue in a jar if desired. There is a stainless steel firewall, and I hope I have persuaded Terry to fit a thick, sound-deadening blanket as well, because the 503 is pretty noisy and I would say that really top-rate noise-cancelling headsets would be a useful investment.
Apart from the flap lever, all the controls and instruments are ergonomically positioned and the panel is well fitted out. There is even a DC gyro turn indicator, though such things are a matter of customer choice. The choke lever, fuel cock and switches are all well labelled and easy to operate.

The standard engine is a twin-carb 50 hp Rotax 503 with direct cooling via a prominent intake scoop on the upper right of the cowling. The gearbox is the 'C' type, 3.47:1 reduction, and drives a U.S. Powerfin three-bladed propeller of seventy-inch diameter, which has nine-inch ground-clearance, tail-down. The glass fibre cowling is very neat and removes easily into top and bottom halves to give good unobstructed access.

The handle for the recoil starter hooks onto the floor ahead of the pilot. I have to admit that I was only once able to start the engine myself when strapped into my seat, and that was from warm. It is just that 503s need at least 300 rpm to fire up, and it is much easier to achieve that from a standing position outside the cockpit. (I believe an electric start option will be offered, but may entail slight alterations to the cowling.)

Potential customers are already pressing for four-stroke options and one has ordered a Jabiru 80 hp version, which should be quite feasible because the Sky Raider has a very high maximum diving speed (115 mph has been demonstrated, and weight and C of G limitations should not arise). However, the 60 hp HKS would seem to be the natural choice and one is already operating successfully in the USA. Terry is planning to get the necessary engine mount and cowling shortly. The 503 is a well-proven and highly suitable engine. It should give a fuel consumption of between 13 to 15 lph. This would give the Sky Raider an endurance of nearly three hours--a range of about 180 miles with no reserves.
What a joy it is to find a 450 kg SLA that can not only carry two 86 kg crew and full fuel, but also have payload for more baggage than you could possibly need and every gadget and modification you could wish to fit. I am so used to being told that the empty weight of this or that SLA is 265 kg i.e. right on the limit, that I could hardly believe Terry when he said the Sky Raider weighed only 196 kg. Indeed, one of our biggest problems during the test programme was how to get in enough ballast to bring the weight up to 450 kg.
This is an exceptionally light little plane. It would have absolutely bowled over the competition in the bad old days of the 390 kg limit, within which it could still operate very well. In fact, many of our test flights, even with full fuel and two aboard, were at or about 390 kg. The extra sixty kilograms now available for whatever you want, bestows the most unusual freedom on Sky Raider owners. It means for instance, that you can carry full fuel and not just two standard 86 kg crew, but two 100 kg crew (the seats are not stressed for more), 15 kg of baggage, and still have 10 kg in hand.

The point is that you have the freedom to use this amazing capacity as you choose. The aircraft is designed and approved for 450 kg and the C of G limits allow you plenty of scope to exploit this to the full. Mind you, common sense should suggest that if you do put in such a colossal load, you will inevitably forfeit some of the lively STOL performance which is the essence of the Sky Raider. She is primarily designed for fun flying, but she sure can lift the loads as well.
Copes with rough grass
Some pilots may be diffident about buying a taildragger. Let me reassure you Tail-draggers offer significant advantages, not least that they don't have to carry around a heavy, vulnerable and draggy nosewheel. They are also often chosen for their superior STOL qualities, which are very relevant for a farm-strip aeroplane like this one. Finally, there is a certain mystique and superiority--which I suspect the taildragging fraternity are happy to maintain--but which has little to justify it, especially where docile aircraft like this one are concerned.

Any slight anxieties I may have had vanished almost as soon as I started to taxi the Sky Raider. She is just so simple to handle and shows an amazingly strong inclination to keep going in a straight line. In fact the pedal forces are surprisingly high, though by no means unpleasantly so, and it is easy to turn virtually around your wingtip, particularly with judicious use of brake. The heel brakes do take a few seconds to get used to, but really you could well get by without brakes at all, and these are perfectly effective for all they have to do.

The undercarriage is shock-cord sprung and has big Tundra tyres (800 x 6), with a tyre pressure of only 15 psi. This makes for a very comfortable ride on rough grass and is very flattering for your landings too. It also means that the Sky Raider will be able to carry on flying through our soggy UK winters, when many airfields are too waterlogged for other aircraft. The Maule tailwheel is solid and sturdily sprung and doesn't seem to mind if one lands slightly tail first, as I did once or twice, when not using flaps. Its castoring geometry is the main reason for its excellent directional stability, aided a bit by the substantial rudder centring springs which we had to fit for other reasons during the test programme.

The Sky Raider can leap into the air in literally fifty metres or less with a healthy breeze on the nose, and we timed several solo take-offs of four seconds from brake release. But you have to be aware that adding a passenger will make quite a difference. When we eventually filled it with a big passenger and some 40 kg of ballast (to 450 kg auw, quite an unrealistic condition), time to unstick was not four seconds but seventeen and the distance was well over four times as long. Under normal loads she is a sprightly performer and you should enjoy uninhibited access to all microlight strips and many ordinary fields. Keeping straight requires a reasonable degree of concentration, but you very soon get the feel of it. You hardly have time to worry about it, because as soon as you've got the tail up she is ready to fly. You can unstick at around thirty mph and accelerate rapidly to climb speed. Climb rate is again highly dependent on weight, but was still a respectable 360 fpm at 450 kg and nearly double that solo.

You do have to watch the slip ball and keep a little left rudder on in the climb, for which the best speed is between 40 and 45 mph. Climbing turns demand a little co-ordination, with the light elevator forces and neutral roll stability i.e. if you roll into a bank and release the ailerons, nothing changes. You will quickly feel that you can throw this plane around, as indeed you easily can, but you will need to concentrate on your rudders if your passenger is not be aware of odd side forces and strong one-sided draughts!
Directional stability was a slight worry to start with, but Terry always responded to our suggestions with alacrity and the problems were sorted very quickly. Strong rudder centring springs helped to limit excessive side-slip angles and to provide a good positive force gradient, while a fairly large fillet at the base of the fin added some useful keel area aft of the C of G. Funnily enough, the plane behaved better with the doors off, as it was initially flown. It was only when the doors were on that we noticed some directional looseness. The fillet and springs will be standard with the kit and you will find she handles very nicely, if you remember and prepare for some adverse yaw on entering turns.

When you level off, you will be pleased at how much ground you can see ahead over the low cowling, and the IAS will soon accelerate to about 62 mph solo and 57 mph with a passenger, at 6,000 rpm. This may not be as fast as some of its sleeker and more expensive competitors, but it will enable you to go from say Southampton to Sheffield in one hop, which is more than enough for most of us. As you cruise along, you will find that all the controls are light and pleasant, and the roll rate is pretty lively. You can also turn the aircraft quite well using rudder alone, should your hands be engaged in refolding your map.

Naturally we tested the longitudinal stabilities exhaustively in determining the C of G range. Selection of 40° flap proved to have a significant destabilising effect and has been a limiting factor in fixing the aft limit. However, the forces and trim changes with flap are minor and normal, and the limitation should have little practical consequence, unless you propose to fly with 100 kg passengers and baggage as well. Elevator trim is via a little actuator in the tailplane, with a rocker switch and bar indicator on the panel. It works well enough and can trim out any steady forces you may expect to meet. Incidentally, trim changes with increases of power are a slight right yaw and a mild nose up, as one should expect.
Stall speed is a crucial requirement for a microlight (under 39 mph), but the Sky Raider satisfies this more comfortably than many others. The clean stall at mauw occurs at an IAS of about 34 mph, while the full flap stall occurs at an IAS of only 23 mph or so, though this corresponds to about 34 knots CAS. Neither presents any problems. There is a little buffet warning and control sloppiness, followed by a mild wing drop, usually to the right, and a small nose drop. Recovery is instant and easy.

Turning stalls to the right can lead to a significant right wing drop, but we judged this acceptable in view of the degree of natural warning and ease of recovery. Flap had little effect on the stalling characteristics, though 40° flap led to lighter control forces and of course lower speeds. High power also lightened the elevator forces, notably so with full flap, and significantly lowered the stall speed.
If you wish to demonstrate the lowest stall speed, you will have to be careful to hold the wings level, with equally careful use of rudder rather than aileron in the final moments--and don't persist in holding the stick back when the break occurs. Paul Mulcahy, the project test pilot, did succeed in carrying out a thorough spin programme, although initial attempts at a forward C of G suggested the Sky Raider would prove spin resistant. The spin presents no real problems and the aircraft will recover immediately if you centralise the controls. It will of course not be cleared for spinning, but we had to prove it is benign.

When you prepare to land, you will find that 30 mph gives you the lowest sink rate, though 35 mph would probably take you further and be more comfortable. The glide ratio at a typical 400 kg (two up) would be about 7.6:1, so don't expect to glide across the English Channel.

Handling in the circuit is delightful and I believe new owners will quickly learn to do three-point landings, even if they have never flown with a tailwheel before. Actually, the Sky Raider is very forgiving if you do touch quite firmly, main wheels first, and you should get away with one small bounce or two at the most. As with many low kinetic energy microlights, the speed decays so rapidly once you close the throttle that she is finished with flying within a second or two.

She is a honey to land, and while I'd never say you should forget about groundlooping, I'd say you would have to screw things up pretty radically to come to grief. She copes with crosswind and turbulent approaches very well.

I think the Sky Raider will help many owners rediscover the freedoms of field-hopping that she positively invites you to enjoy.
In summary: excellent value for money; a simple, quick and satisfying project to build; and a whole lot of affordable, fun flying. Prices for the Easy Raider can be found at:
http://www.realityaircraft.com/easyorder.html

Specifications

Easy Raider

Empty Weight with Rotax 503 engine 420 lb/196 kg

Max take-off Weight 990 lb/450 kg

Wing area 105 sq ft/9.77 sq m

Wing span 28 ft/8.54 m

Width folded 8 ft 2 in/2.49 m

Length 17 ft/5.19 m

Length folded 20 ft/6.1 m

Height 5 ft 9 in/ 1.75 m

Gear Width 5 ft 6 in/1.68 m

Max cabin Width 2 ft 2.5 in/0.67 m

Min cabin Width 2 ft/0.61 m

Fuel capacity 10 U.S. gal/40 ltr
UK importer

REALITY AIRCRAFT LTD

UNIT 1A, AMESBURY INDUSTRIAL ESTATE

LONDON ROAD, AMESBURY

SALISBURY

SP4 7LS

UNITED KINGDOM

http://www.realityaircraft.com/