St Lucia Jazz Festival
Created | Updated Jun 26, 2013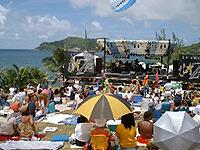 This fun-packed annual festival is held in the month of May for a period of one week on the exquisite island of St Lucia in the Windward Islands of the Caribbean. St Lucia itself is a stunning, luscious island full of rain forests and beautiful beaches. Tourism is rapidly growing and hotels are popping up at a very fast but controlled rate. One event that is encouraging more and more people to visit the island is the jazz festival.
The festival attracts many famous artists who clearly enjoy the opportunity of entertaining in a relaxed and atmospheric setting. For the whole week there are a number of gigs that take place in different parts of the island, such as hotels and the cultural centre. The prime location, however, is Pigeon Island, located in the north, which is joined to St Lucia by a causeway.
On Pigeon Island, a stage is erected beside an historic ruin, creating a magical setting where the musicians play late into the evenings as everyone winds down from their busy days. On the latter weekend of the festival there are two afternoon concerts that begin around 2pm and end around 8pm and involve a collection of musicians, both famous and unknown. They each have the spotlight for an hour or so and often team up with other soloists. The atmosphere here is mind-blowing and is a real family occasion, with everyone sitting on the hillside surrounded by the spectacular views of the stage and the glistening sea behind it. The mood is so mellow; you forget everything except what's around you and drift off as the music soothes your stresses away.
How to Make the Most of Your St Lucia Jazz Festival Experience
Where to Stay
St Lucia is a largish Caribbean island - the drive from south to north is well over an hour and the roads are long and winding - it is therefore advisable to stay as close to Pigeon Island as possible or at least find a place to stay up in the north of the island. The main tourist beach happens to be in the north and is called Reduit Beach in Rodney Bay. This may be off-putting but it's actually highly recommended, as May is the low season and the majority of the tourists are visiting the festival. There are many bars and restaurants nearby and eating out is far more interesting than staying at your hotel; it also supplies much needed revenue to the local population.
The Rex St Lucian hotel is right on the beach, very relaxed and not too pricey. There is also a beach bar close by called Spinnakers offering cheap, delicious local dishes and fantastic rum punches. The closest hotel of all, which is actually on Pigeon Island, is the Hyatt Regency hotel, it's rather expensive and is located away from the local bars and restaurants. However, it is very convenient and in fact many of the performers stay there.
Booking Tickets
To attend the performances, you must book tickets in advance. You can either buy a pass if you're likely to go every day and night, at US$300, or you can buy the tickets individually, which vary from US$33 to $44 - and generally include seeing a few artists together. Tickets can be purchased in advance or while you're there - just ask at your hotel.
The Weekend
The day performances at Pigeon Island are the highlight of the event. However you do need to prepare yourselves to make the best of these days:
Take a taxi to Pigeon Island to get there by at least by 1pm to find a spot overlooking the stage. It is essential to mark out your territory, which can be done with rugs or sarongs. Once this area is firmly established, enabling you to stretch out and relax, watch the crowds pile in and take up every bit of ground available - it's quite incredible and you'll feel very glad that you arrived early. Remember, too, that you'll be sitting there for six hours!

Drinking and eating are all part of the experience. Scattered around are stalls selling delicious local foods and snacks. They also sell drinks, but it's a good idea to purchase a 3 litre cooler with a tap from the local supermarket and make up rum punch in advance with ice from the hotel. You can then sit and drink at your leisure without having to queue up every 10 minutes only to find the drinks have reached boiling point by the time you get back to your patch!

Also remember drinking water, a hat and suntan cream; otherwise you won't be back the next day. With the island's cooling breezes, the heat is deceptive and those not used to it will surely frazzle.
The St Lucia Jazz Festival is still relatively free from tourists, although the tourist board is making much more effort to promote it worldwide. While it's still unique, take a trip you'll never forget to this idyllic location.