'Baby Did a Bad Bad Thing' by Gabrielle Lord
Created | Updated Nov 6, 2006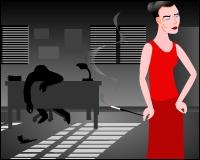 Gabrielle Lord is an Australian author. Born in 1946, she gained a degree in English Language and Literature and worked as a salesperson, teacher, fruit picker, brick cleaner, market gardener and employment officer before taking up writing full time. Her previous novels include: Fortress (1980); Tooth and Claw (1983); Jumbo (1986); Salt (1990); Whipping Boy (1992); Bones (1995); The Sharp End (1998); Feeding the Demons (1999) and Death Delights (2001). Fortress was made into a film and Whipping Boy into a telemovie. She has also published short stories and articles.
Writing Style
Although she's marketed as a crime fiction writer by her publishers, she dislikes that classification, saying that she writes about social issues and finds crime stories an appropriate medium to use. A frequently occurring theme in her novels is child abuse/neglect and its effects.
Her novels are fast paced and full of tension, drama, action and mystery, with unexpected plot twists. She does a lot of research to get the details right. The plots occasionally include paranormal or spiritual elements.
Baby Did a Bad Bad Thing
The protagonist of Baby Did a Bad Bad Thing is Gemma Lincoln, ex-cop and private eye, who featured in Gabrielle's earlier book Feeding The Demons. Gemma runs her own private investigation agency with the help of three operatives.
The book starts with a vicious attack on a street prostitute, which Gemma is asked to investigate. She's involved in several other cases too: a client suspects that his wife is cheating on him, a billionaire philanthropist has disappeared after his mansion burnt down in suspicious circumstances, and her boyfriend Steve, an undercover cop, is trying to infiltrate a drug lord's empire. She's also being harassed by a cyber-stalker who sends her malicious email.
She proceeds to investigate all of these cases, alternating between them throughout the book. Further complications arise: one of her friends is murdered; a young boy who's run away from home turns up at her house; and her business runs into serious problems. At various times she's stalked, assaulted, kidnapped and nearly killed. She seeks help from a number of people such as her friend Detective Sergeant Angela MacDonald, her sister Kit, who's a therapist, and her three employees: Spinner, Mike and Louise. But can she trust all of them?
Many of the sub-plots turn out to be related at the end, as often happens in her books.
The title is from a song of the same name by Chris Isaak. The music is used as a motif in the book, and ties in with one of the themes - betrayal.