1+49-5+3-6=42!
[insert Jhonen Vasquez reference here]
I need no introduction.
My other page
My other page
was originally created because I needed a page that could load on my cruddy connection and couldn't bear to get rid of all the 'stuff' I had here. Then, for quite awhile it became my promary account. No longer. Why? Simple. Having not been to H2G2 for upwards of a month or so, I have forgotten its login. The login itself--
not
the password.
Yes, I
know
it's ridiculous.
About my nickname
My nickname, and its titles, have a long and dignified, but not very interesting, history, mainly involving Discworld MUD. Don't know what that is? Go to their site(the link is updated, as of 29/9/04), I promise it's fun. I don't actually have an id called Wayfarer there anymore, but instead game as JWaynest*, and Tangent.
One of my most consistent titles is
Keeper
of Bad Puns(under my original name of Minesweep Goddess).
Obligatory link section
This is fun... I'll leave it.
| | |
| --- | --- |
| GAS | The Greebo Apreciation Society. Dedicated to Greebo T. Cat, be sure to bring s! |
| Church of the True Brownie | Come and partake of the Brownie and trek across the desert/snow/city in the Forum of the True Brownie! |
| Classic Goo Fan Club | Better in Goo. Click HERE to see this page in Albaster, but be sure to come back! |
| Chocolate Lovers Fan Club | Mmmmm... chocolate! |
| Royal h2g2 Procrastinator's Club | I'll put something in here tomorrow. |
| SATS | Society for the Addition of a Towel Smiley. This is a smiley, so the towel crusade is done.1 Hurrah!* The SATS page is now the SAS(Society for Addition of Smileys) page. |
| UnOfficial h2g2 Lurker | Us lurkers, who go to conversations and read them but don't post. Join the club at A588440. |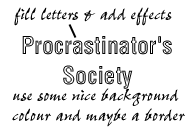 Some smiley-like artwork
Made by messing about with
Twinkle's
tiny table maker
2
My eyes are bleary, my fingers weary; that means this introduction is over.*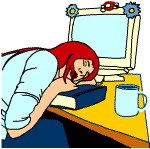 Subscriptions
Title
Status

Created

This user has no Entry subscriptions