1+49-5+3-6=42!
[insert Jhonen Vasquez reference here]
I need no introduction.
My other page
My other page
was originally created because I needed a page that could load on my cruddy connection and couldn't bear to get rid of all the 'stuff' I had here. Then, for quite awhile it became my promary account. No longer. Why? Simple. Having not been to H2G2 for upwards of a month or so, I have forgotten its login. The login itself--
not
the password.
Yes, I
know
it's ridiculous.
About my nickname
My nickname, and its titles, have a long and dignified, but not very interesting, history, mainly involving Discworld MUD. Don't know what that is? Go to their site(the link is updated, as of 29/9/04), I promise it's fun. I don't actually have an id called Wayfarer there anymore, but instead game as JWaynest*, and Tangent.
One of my most consistent titles is
Keeper
of Bad Puns(under my original name of Minesweep Goddess).
Obligatory link section
This is fun... I'll leave it.
| | |
| --- | --- |
| GAS | The Greebo Apreciation Society. Dedicated to Greebo T. Cat, be sure to bring s! |
| Church of the True Brownie | Come and partake of the Brownie and trek across the desert/snow/city in the Forum of the True Brownie! |
| Classic Goo Fan Club | Better in Goo. Click HERE to see this page in Albaster, but be sure to come back! |
| Chocolate Lovers Fan Club | Mmmmm... chocolate! |
| Royal h2g2 Procrastinator's Club | I'll put something in here tomorrow. |
| SATS | Society for the Addition of a Towel Smiley. This is a smiley, so the towel crusade is done.1 Hurrah!* The SATS page is now the SAS(Society for Addition of Smileys) page. |
| UnOfficial h2g2 Lurker | Us lurkers, who go to conversations and read them but don't post. Join the club at A588440. |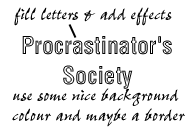 Some smiley-like artwork
Made by messing about with
Twinkle's
tiny table maker
2
My eyes are bleary, my fingers weary; that means this introduction is over.*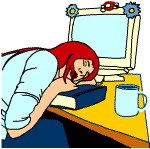 Subscriptions
Title
Status

Created

This user has no Entry subscriptions
Wayfarer -MadForumArtist, Keeper of bad puns, Greeblet with Goo beret, Tangential One
Researcher U149536

Disclaimer
h2g2 is created by h2g2's users, who are members of the public. The views expressed are theirs and unless specifically stated are not those of Not Panicking Ltd. If you consider any Entry to be in breach of the site's House Rules, please register a complaint. For any other comments, please visit the Feedback page.
"The Hitchhiker's Guide to the Galaxy is a wholly remarkable book. It has been compiled and recompiled many times and under many different editorships. It contains contributions from countless numbers of travellers and researchers."
Friends
Wayfarer -MadForumArtist, Keeper of bad puns, Greeblet with Goo beret, Tangential One has no Friends
Bookmarks
This user has no Bookmarks