The ICC Cricket World Cup 2003 - Week Three
Created | Updated Mar 19, 2004
SPORTING WITH EGON
presents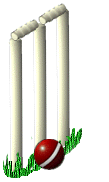 THE ICC CRICKET WORLD CUP 2003
WEEK THREE
Introduction.
STORIES SURROUNDING THE WORLD CUP
Before I get into the details of the week's action on the cricket field, a brief look at the more interesting stuff going on off the field.
Shane Warne, who departed the Australian squad in disgrace after testing positive for a diuretic contained in a weight loss tablet, which could be used to hide traces of performance enhancing drugs, has been banned by the Australian Cricket Board for one year.
Warne had been due to captain Hampshire in the coming County Championship Season, but veteran ex-England star Robin Smith is expected to captain in his place, with Pakistani fast bowler Wasim Akram rumoured to be taking over Warne's place as one of Hampshire's two allocated overseas players.
In the light of their impressive performances thus far in the World Cup, it has been announced that the International Cricket Coumcil is to allow Kenya to become a Test-playing nation within three years.
TOURNAMENT FORMAT
The world cup format is explained in this column a fortnight ago, and also here
THE MATCHES
Thursday February 20th - Australia beat Holland by 75 runs (D/L method), Potchefstroom

Australia's rain-shortened innings produced a total of 170-2 from 36 overs, the Australian side misunderstanding the Duckworth/Lewis calculations and believing that if they didn't lose wickets then the Dutch target would be higher, which is not the case. Damien Martyn top-scored the innings with 67 not out. The Dutch target was still 198 from their 36 overs, a target they completely and utterly failed to achieve, being dismissed for just 122 inside 31 overs, former Worcestershire bowler Andy Bichel taking 3-13

Friday February 21st - Kenya beat New Zealand, walkover, Nairobi

New Zealand defaulted this match as they were concerned about the possibility of terrorist action in Kenya.

Saturday February 22nd - South Africa beat Bangladesh by 10 wickets, Bloemfontein

Bangladesh were skittled for 108 by a South African bowling attack whose star was Makhaya Ntini, who took 4-24. Captain Shaun Pollock bowled six overs, picking up a preposterous 2-8, and Worcestershire all-rounder Andrew Hall also picked up a couple of wickets. South Africa's openers, Herschelle Gibbs and Gary Kirsten took just 12 overs to reach their target, Kirsten scoring a 32-ball fifty.

Saturday February 22nd - England beat Pakistan by 112 runs, Cape Town

The England team, having made hard work of victories over whipping boys Holland and Namibia, finally turned in a very classy performance to destroy Pakistan. Young England bowler Jimmy Anderson took 4-29 as England skittled Pakistan for 134, a pathetic response to England's 246, which had been anchored by a very classy unbeaten 66 from Durham all-rounder Paul Collingwood and a 52 from Yorkshire batsman Michael Vaughan. Pakistan's ineptitudse was summed up by the fact that their top scorer was last man Shoaib Akhtar, who managed to bludgeon 43 from only 16 balls, including 5 fours and 3 sixes before succumbing.

Sunday February 23rd - West Indies beat Canada by seven wickets, Centurion Park

Canada, who have impressed me during this world cup, managed to reach a total of 202 in this game, led by Australian-born Jophin Davison, whose 111 came from only 66 balls, and was the fastest century in World Cup History, including 6 sixes. The West Indies only bowler who really did anything worth mentioning was veteran Vasbert Drakes, with 5-44. Davison was also among the Canadian wicket-takers as the West Indies blitzed him and his fellow bowlers en route to victory inside 21 overs. Wavell Hinds' 64 from 31 balls, and Brian Lara's 73 from 40 balls gave Davison a run for his money in the hypothetical 'most exciting batting' award. A shame for the Canadians to suffer such a heavy victory after such a wonderful batting performance.

Sunday February 23rd - India beat Namibia by 181 runs, Cape Town

India, having performed quite badly thus far, gave their confidence a big boost with a heavy victory over minnows Namibia, the Indian total of 311-2 featuring scores of 152 from Sachin Tendulkar and 112 not out from captain Sourav Ganguly. There were then two wickets each for Zaheer Khan, Harbhajan Singh and Dinesh Mongia, and Yuvraj Singh cleaned up the tail to return figures of 4-6 as Namibia were dismissed for 130.

Monday February 24th - Australia beat Zimbabwe by seven wickets, Bulawayo

The Zimabweans gave the world champions a scare in this game, Andy Flower top scoring with 62 and Andrew Blignauut blasting a fifty at an average of two runs a ball. A total of 246-9 was a good score for this team, although they did have some difficulty dealing with Brad Hogg's spin, as Hogg took three wickets. The Australians needed 47 and a half overs to pick up their seven wicket victory, with all five of the players who batted playing consistent, yet never spectacular innings.

Monday February 24th - Kenya beat Sri Lanka by 53 runs, Nairobi

The shock of the tournament so far occurred in Nairobi, as the much-fancied Sri Lankan team were cut down to size by Kenya, who will be the next team to be granted test status. Kenya's 210-9, led by opener Kennedy Otieno's 60, was unspectacular, and they did have difficulty dealing with Sri Lanka's in-form bowlers Chaminda Vaas and Muttiah Muralitharan. But the bowling of Collins Obuya, who took a national record 5-24, all rounder Steve Tikolo (2-13) and their teammates destroyed the Sri Lankan batting line-up, dismissing them for only 157 to give Kenya a real chance of qualification for the super six stage.

Tuesday February 25th - Pakistan beat Netherlands by 97 runs, Paarl

Pakistan struggled slightly with the bat, scoring only 253-9, not a mightily impressive score against minnows such as Holland. The Dutch batsman, however, failed to follow on from their bowlers' performance, just as when they played India. Bastian Zuiderent, who plays county cricket for Sussex, is being overshadowed by his amateur team-mates, and scuppering my fantasy cricket team while he's at it. And when none of a teams top four manage to reach double figures, it's always going to be problematic. The Dutch managed to stumble their way to 156, three wickets each being taken by Wasim Akram (who now has 500 one-day international wickets) and Shoaib Akhtar.

Wednesday February 26th - India beat England by 82 runs., Durban

England now need to beat Australia to have a chance of qualifying from group A. Sachin Tendulkar, Yuvraj Singh and Rahul Dravid tormented the English bowlers, and the England feat of dismissing a player from each of the last four balls of the innings (although the third was a runout, meaning Andy Caddick was not credited with a hat-trick) was too little to late. The England batting performance was even worse, allrounder Andy Flintoff the only batsman deserving of the name in this performance. India are probably into the super six, but if they lose to Pakistan next week, it could be less clear cut. England are on the verge of going out.

Wednesday February 26th - New Zealand beat Bangladesh by seven wickets, Kimberly

Bangladesh have lost all their games so far with the exception of a No Result against West Indies due to rain. However, New Zealand batted too slowly, and they may regret taking 33 overs to reach a target of 199 against the inept Bangladeshi bowlers if the group qualification comes down to net run rate.
Group A Table
Teams
Performance
Rank
Team
Points
Won
Lost
Tie/No Result
Net Run Rate
1.
Australia
16
4
0
0
1.77
2.
India
16
4
1
0
1.28
3.
England
12
3
21
0
1.07
4.
Pakistan
4
1
2
0
-0.13
5.
Zimbabwe
8
22
2
0
-0.09
6.
Netherlands
0
0
4
0
-2.02
7.
Namibia
0
0
4
0
-2.81
Group B Table
Teams
Performance
Rank
Team
Points
Won
Lost
Tie/No Result
Net Run Rate
1.
Kenya
12
33
1
0
-0.39
2.
Sri Lanka
12
3
1
0
1.73
3.
New Zealand
12
3
24
0
0.40
4.
West Indies
10
2
1
1
1.03
5.
South Africa
8
2
2
0
2.15
6.
Canada
4
1
3
0
-1.46
7.
Bangladesh
2
0
4
1
-2.51
Egon
1including defaulted game against Zimbabwe
2Including walkover against England
3Including walkover against New Zealand
4Including a default against Kenya