A Quest for The Quest
Created | Updated Feb 5, 2003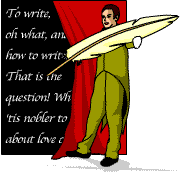 On the 7th of February 2002 you were introduced to a brand new serial story from sea, called The Quest. Unfortunately due to real life commitments, sea is unable to finish the story, and has thrown open a challenge to all her ardent readers. You1 are invited to finish off the story yourself, if you can't quite remember what has happened then you can read the story from the beginning in The Post 'The Quest' Archive or you
can refresh your memory by glancing at the handily scribbled summary of events below.
Send your story endings in text file format (Notepad is wonderful, Word Pad is nearly as good) to [email protected]. The winning entry as judged by sea will go in the 20th February edition, so you have two weeks to get your endings to us2.
The Quest - So far
sea is asked by Garius to go on a quest to find 'The Hitchhiker's Guide to the Galaxy Radio broadcast scripts'. Whilst thinking about it she is kidnapped, her apartment is ransacked and she decides to find the scripts
She goes to see UH at the h2g2 Folklore Museum, he is not happy with her and she leaves. She gets a phone call from Yowuzupman and goes to see him, UH shoots her in the arm, sea tells Yo about the quest, and then calls Gw7en and Marv.
The gang goes to London where sea meets Shazz in a bar. sea finds the field where Douglas Adams thought up the script, and goes to his house, where she seems to meet the man himself even though he is dead.
sea meets Red Dog who wants to buy the scripts off her; he threatens to shoot her unless she tells him who commissioned the quest. sea refuses to tell, and is shot in the chest by Yo who is trying to rescue her. Red Dog escapes, and sea proves to be unhurt as she is wearing a bullet-proof vest. sea's room mates Saturn Girl and Apollo turn up.
sea pays Saturn Girl to stay away from her, but how had she found her in England? Could it be that she is in the employ of Red Dog!!! Indeed she is, and when Red Dog hears that Saturn Girl can no longer get near sea, he fires her. Red Dog tells Uncle Heavy of his failure, and UH tells his boss, they decide that Team Red has failed, and that Plan B is in effect. Back in the field an entryway is discovered.
The gang set to deciphering messages written on the entryway. They set there computer to work out what the strange pattern of small and large O's mean. Finally the computer translates the message, 'Be warned: All who enter here are doomed. (Ps: Beware of the little
dongly things. I've thrown all my extras into this fortress and I daresay they've taken on quite a frightening demeanour.)'
Yo is kidnapped, sea receives a phone call from the kidnapper, it's a woman, but who is it? Yes indeed, it's non other than Shazz.3 Red Dog makes another
appearance.
Shazz reveals to Yo, that sea had shot the first man Shazz had ever loved. sea drives off to look for him, suffering from concussion. sea stops in a cornfield and meets a fat purple cat, which she catches and puts into the trunk of the car. Yo seems to find a Total Perspective
Vortex, and realises that is why sea killed Shazz's love.
sea and the gang arrive at the warehouse where Yo is being held. They knock, and Shazz holds a gun as she opens the door.
Over to you... end it if you can... indeed you can call it a quest if you like, a quest to tell us how it ends.
1Or indeed that person standing behind you reading over
your shoulder, no don't look, you'll scare them away!!
2Hmmm, did
that sound odd to you... or is it just me?
3Gasp... The head honcho, the big cheese, the top dog, the numero uno... etc..etc...