360 - Changing the World by Degrees
Created | Updated May 22, 2006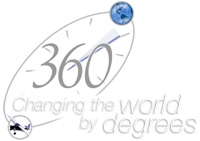 Latest news from 360 -
Changing the World by Degrees.
Living and praying peace tells of a world-wide peace rally on 9th February. Do you want to join in? Or, why not take a look at the background discussion, World Peace - is it possible? What do you
think?
Science vs. Faith is still cramming them in. Did you know that FriendlywithTeeth reads Thomas Aquinas? Why not add your thoughts to the on-going conversation. And do you believe in Guardian Angels? If so, let us know your story, or find out a little more about this fascinating subject.
Finally, bringing it all nicely down to earth: Jedi Apprentice has posted How to Become a Better Lover - does this work for you?
Changing The World By Degrees Archive