Post Quiz: Guess the Pun
Created | Updated Sep 30, 2018
Post Quiz: Guess the Pun
Do you like puns? Of course you do. Do you like animation? Our guess is yes, particularly if you come from the Isle of Wight.
Watch this video, called 'The Fresh Vegetable Mystery'. When you see a number, write down the joke or pun. We expect certain parties to get 100% on this one.
Click the picture for answers.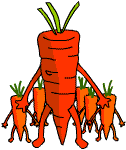 Post Quiz and Oddities Archive