Post Quiz: Guess the News
Created | Updated Oct 29, 2017
Why fight fake news? If you can't lick 'em, join 'em.
The Post Quiz: Guess the News
Once again, it is time for you to guess whether this weird news item is True or False.
The president of the US has acquired a pet armadillo named Alamo. The animal was orphaned in Hurricane Irma. So far, it has bitten him twice.
A car factory in India was evacuated for 36 hours when a cat was spotted on the premises.
A daring prison break in the US involved the strategic use of peanut butter.
The Federal German state of Bavaria has outlawed the sale of Wolpertingers – artificial stuffed animals created by taxidermists – under a new 'truth in packaging' law.
Someone has photographed a ghost on the stairs at the Stanley Hotel in Colorado (US), model for the Overlook in The Shining.
A high school in Baltimore, Maryland (US) was evacuated by a hazmat team. The culprit odour in the school? Pumpkin spice.
In Turin, Italy, two criminals wore masks of Vladimir Putin while robbing cash machines.
A five-year-old boy in Tucuman, Argentina, swallowed a pet toy. His mom took him to the hospital because he couldn't stop squeaking.
A man in Casper, Wyoming (US) was arrested for public drunkenness. His excuse was that he was time travelling, and aliens in the future made him drunk.
Freewayriding has managed to get a photograph of the Liverpool ghost named Betty.
Baffled? So are reporters. Click on the picture for answers.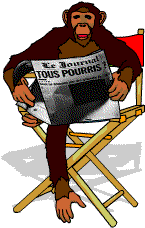 Post Quiz and Oddities Archive