SuperMarket XXXV - the Editor's Cut
Created | Updated Jan 21, 2017
Hello, and welcome to the latest edition of SuperMarket, the update of everything exciting taking place in h2g2's own Flea Market.

This edition is brought to you by me, SashaQ, after Bluebottle invited me to contribute to the series.
Super Market
When planning this Entry, I delved into h2g2 history - I am a relative newcomer to the site, having joined in 2009, so I enjoy looking back at past conversations and Entries as much as I enjoy rummaging in the Flea Market. I found that the first edition of SuperMarket appeared in 2013, after Bluebottle hiked through h2g2. Before that Matt produced a roundup of the status of the Flea Market. Matt's Entry, from 2012, celebrated the 200th Flea Market Rescue. At the end of 2016, according to the SuperMarket annual report, there had been 294 Rescues in total, so we are well on target to reach the 300 mark this year!
If you browse through the Flea Market, you might find a specific Entry to rescue, or you might just find inspiration for an Entry of your own. Topics people have started to write about include: where they live, places they have visited, or their favourite bands.
H2G2 History
The SuperMarket series provides a wealth of information about the Flea Market, including interviews with Scavengers as well as perfectly punned titles. Other Entries that I found on my travels through time are not directly linked to the Flea Market but contain information about the Edited Guide processes, of which the Flea Market is a part.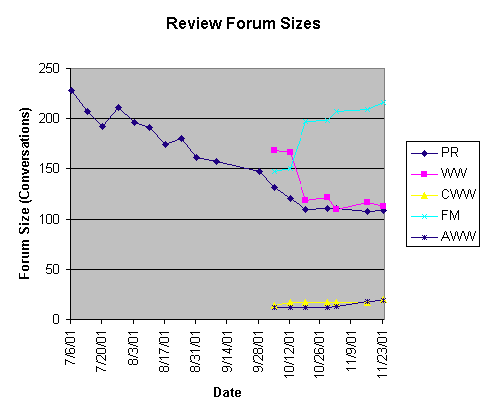 In 2001 The h2g2 Editors created a chart of the number of Conversations in Peer Review, the Flea Market, and the Workshops since their creation that year. The Flea Market appeared on the chart in October 2001 with 150 Entries in it - the number has fluctuated over time, but today it contains 514 Entries. The chart starts in July 2001 when Peer Review contained more than 200 Entries, but by the end of November 2001 there were just over 100 Entries available for review. In contrast, today there are 27 Entries in Peer Review.
Related to that, I found an Entry that is almost 10 years old, but which could well have been written today - the h2g2 Researchers Group was an effort in 2007 to find new writers within h2g2 and encourage established writers to contribute regularly to Peer Review and the Edited Guide.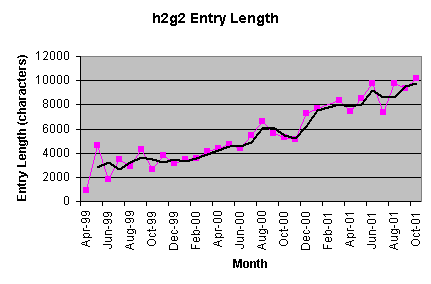 Another fascinating chart I found was the average length of each month's Edited Entries from 1999 to 2001 (although it gives the number of characters rather than the number of words). It shows a steady rise in the length of Entries, from something like the Old Writing Team's February 1999 Entry on Oxford Street - a mostly harmless 829 characters - to the much more informative DNA Fingerprinting Entry of October 2001 - 6359 characters. In January 2017 the average length of the eight Entries that were published on the Front Page was 22,700 characters. That doesn't mean all the Entries were long, though - one Entry was just over 700 words in length.
New Entries in the Flea Market
Since the last edition of SuperMarket, seven more entries are now in the Flea Market, waiting for someone to come along and rescue them. If you would like to take one on but have questions about how to get started, just ask!
Don't forget that if you see an entry that you think might qualify for inclusion in the Flea Market, let Bluebottle know.
And Remember...
The Flea Market needs You!



These will be useful in January:

A87736990
A87784258

A9741972

A661510
A643664

A28763472

http://www.h2g2.com/dna/h2g2/brunel/F16034?thread=4749687
http://www.h2g2.com/dna/h2g2/brunel/F63405?thread=3922784

A4692620

http://www.h2g2.com/dna/h2g2/brunel/F80756?thread=116555