The Ghost and the Lawsuit
Created | Updated Oct 2, 2016
It's October, and the topic is 'strange but true stories'. You can guess what's coming.
Ed Note: Have you ever wondered if it's possible to get justice – in this world, mind you – from beyond the grave? Wonder no more. This strange (but true) story comes from Ireland (of course) courtesy of Irish Witchcraft and Demonology by St John D Seymour, London, 1913, and our friends at Gutenberg. We won't swear to the ghost, but the lawsuit did take place. Aren't you glad you know this?
The Ghost and the Lawsuit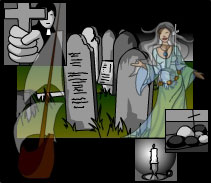 At the instigation of a ghost a lawsuit took place at Downpatrick in 1685. The account of this was given to Baxter by Thomas Emlin, 'a worthy preacher in Dublin,' as well as by Claudius Gilbert, one of the principal parties therein concerned: the latter's son and namesake proved a liberal benefactor to the Library of Trinity College – some of his books have been consulted for the present work. It appears that for some time past there had been a dispute about the tithes of Drumbeg, a little parish about four miles outside Belfast, between Mr. Gilbert, who was vicar of that town, and the Archdeacon of Down, Lemuel Matthews, whom Cotton in his Fasti describes as 'a man of considerable talents and legal knowledge, but of a violent overbearing temper, and a litigous disposition.' The parishioners of Drumbeg favoured Gilbert, and generally paid the tithes to him as being the incumbent in possession; but the Archdeacon claimed to be the lawful recipient, in support of which claim he produced a warrant. In the execution of this by his servants at the house of Charles Lostin, one of the parishioners, they offered some violence to his wife Margaret, who refused them entrance, and who died about a month later (1st Nov. 1685) of the injuries she had received at their hands. Being a woman in a bad state of health little notice was taken of her death, until about a month after she appeared to one Thomas Donelson, who had been a spectator of the violence done her, and 'affrighted him into a Prosecution of Robert Eccleson, the Criminal. She appeared divers times, but chiefly upon one Lord's Day-Evening, when she fetch'd him with a strange force out of his House into the Yard and Fields adjacent. Before her last coming (for she did so three times that Day) several Neighbours were called in, to whom he gave notice that she was again coming; and beckon'd him to come out; upon which they went to shut the Door, but he forbad it, saying that she looked with a terrible Aspect upon him, when they offered it. But his Friends laid hold on him and embraced him, that he might not go out again; notwithstanding which (a plain evidence of some invisible Power), he was drawn out of their Hands in a surprizing manner, and carried about into the Field and Yard, as before, she charging him to prosecute Justice: which Voice, as also Donelson's reply, the people heard, though they saw no shape. There are many Witnesses of this yet alive, particularly Sarah (Losnam), the Wife of Charles Lostin, Son to the deceased Woman, and one William Holyday and his Wife.' This last appearance took place in Holyday's house; there were also present several young persons, as well as Charles and Helen Lostin, children of the deceased, most of whom appeared as witnesses at the trial.
Upon this Donelson deposed all he knew of the matter to Mr. Randal Brice, a neighbouring Justice of the Peace; the latter brought the affair before the notice of Sir William Franklin in Belfast Castle. The depositions were subsequently carried to Dublin, and the case was tried at Downpatrick Assizes by Judge John Lindon in 1685. On behalf of the plaintiff, Charles Lostin, Counseller James Macartney acted – if he be the Judge who subsequently makes his appearance in a most important witch-trial at Carrickfergus, he certainly was as excellent an advocate as any plaintiff in a case of witchcraft could possibly desire, as he was strongly prejudiced in favour of the truth of all such matters. 'The several Witnesses were heard and sworn, and their Examinations were entred in the Record of that Assizes, to the Amazement and Satisfaction of all that Country and of the Judges, whom I have heard speak of it at that time with much Wonder; insomuch that the said Eccleson hardly escaped with his life, but was Burnt in the Hand.'
The Literary Corner Archive