February Create: A Remarkable Encounter
Created | Updated Feb 14, 2016
A Remarkable Encounter
It was a bright summer's day when my brother and niece came to visit. My brother Richard only visited us once a year, because he lived in Maryland, where he worked as a research scientist. On this occasion, he had flown over with his daughter, Kate, whom he was taking on a tour of Britain. She was dark haired, with a wide smile and a lively interest in everything. He had a busy schedule, meeting old friends and work contacts, so he was only planning to stay for the day.
After lunch, my husband suggested we might go out. 'For a walk in the country, or into Brighton?'
'Country, I think,'said Richard. 'We've seen quite a few towns.'
We set off in the direction of Devils Dyke, and could soon see the line of the South Downs. A sweep of blue-green hills and, in the sky above, specks of bright colour. Hang gliders. It so happened that my older brother Philip was a hang-gliding enthusiast. He worked as a draughtsman in South London, but when the weather was suitable he would take a day off and go hang gliding. He needed precise conditions. Devils Dyke was a good place to go hang gliding, but only if the wind was north-easterly.
'Wouldn't it be amazing if Philip was there?'said Richard.
Devils Dyke is a steep sided valley in the chalk of the Downs. At the top, there is a pub with a big car park, from which you can walk along the South Downs Way. As we parked our car, we noticed a red Maxi, the sort of car Philip drove. It was windy on the ridge when we started walking. Hang glider pilots stood and chatted. Some stretched out arcs of coloured cloth on the short turf; others prepared to launch themselves. They ran towards the edge of the ridge, until the wing filled with air, their feet lifted from the ground and they climbed into the sky. Several hang gliders circled above, using the lift from the edge of the hill to stay aloft.
As we watched, one of the hang glider pilots came into land. He coasted in, losing height gradually and landed with a run, in a collapsing heap of lines and cloth. It was Philip. We hurried over and greeted him. He hadn't seen Richard for a year and Kate since she was little. Philip demonstrated his hang glider and Richard talked about his visit to Britain, before we went our separate ways. There can't be many people who have, quite by chance, seen their brother drop in from 1,000 feet and say 'hello'.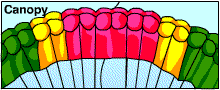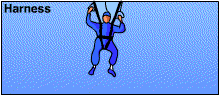 Create Challenge Archive