42 Words: The Iceman Cometh
Created | Updated Mar 29, 2015
Paulh tells us of a blizzard in 42 words
A few weeks ago paulh started a journal asking for 42 word stories and poems. There have been a few submissions, and we thought you might like to read them. If you want to try your hand at it, we suggest you pop over to paulh's journal and add your own.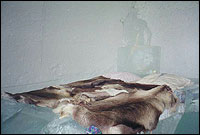 The Iceman Cometh
Roger, last seen leaving Starbucks, vanished in the first blizzard.
Three sisters were swallowed by the second.
The third made the Donner family disappear.
Police feared a dozen frozen corpses when the snow melted.
Secret eskimo cultists, they all survived in igloos.