The Prof Quiz: Pop Food Part 2
Created | Updated Oct 5, 2014
The Prof serves up a tasty treat of a quiz
Pop Food - Part I
Can you name the group or singer, that's got a food or as near as

in their name?
Here's a song and the Album it's from:
"Gold Cobra" (album same name)
"Fool for a Pretty Face" (album - On to Victory)
"Really Saying Something" (album - Deep Sea Skiving)
"Never Grow Old" (album - Wake Up and Smell the Coffee)
"Mind Your Manners" (album - Lightning Bolt)
"I'm Gonna Love Her for Both of Us" (album - Dead Ringer)
"Mickey" (album - Word of Mouth))
"Annie, I'm Not Your Daddy" (album - Tropical Gangsters)
"Ricochet, Part One, Ricochet, Part II" (album – err! - Ricochet))
"Get Sexy" (album - Sweet 7)
Think you have them all? Click the image below for the answers.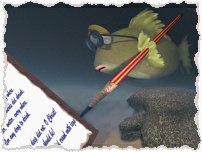 Prof Animal Chaos Archive