The Post Quiz: The Deadly Spanish Influenza
Created | Updated Jul 27, 2014
How much do you know of plagues of the past?
The Deadly Spanish Influenza
Next month, many people will be commemorating the Great War, a global conflict that began 100 years ago. What was it all about? Tangled alliances, nationalism run amok, the battle over place names you can't pronounce, pretty much the usual sort of reason people make up for fighting with each other. It was all very exciting, no doubt – but not in a good way. And even though the grisly event was billed as 'the war to end war', well, it didn't. The peace treaty pretty much caused the next mess. So it goes.
In all the fuss over the military confrontation, most people forget the devastating event that grew out of that war: worldwide pandemic. Yes, folks, in 1918-1919, the planet caught the 'flu, or as they called it, the Spanish Influenza. It was horrible.
What do you know about this global event? Sort the true from the false in this list.
True or false?
The Spanish influenza was so-named because people blamed it on Spanish germ warfare.
The 'flu had nothing to do with the war.
Americans caught the 'flu from returning soldiers.
The 'flu killed more people than the Great War.
This disease was bacteriological in origin.
The 'flu killed more people than the Black Plague.
The 'flu killed slowly.
Because of the 'flu, U.S. life expectancy dropped by 12 years.
The 'flu never hit the Arctic.
Young people were immune to the 'flu.
Think you knew them all? Check your epidemiological knowledge by clicking the picture below.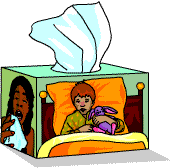 Post Quiz and Oddities Archive