Supermarket: Interview with Florida Sailor
Created | Updated Feb 17, 2013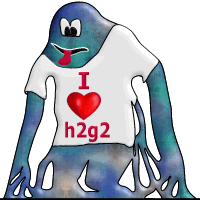 Hello, and welcome to another edition of Super Market, the monthly update of everything exciting taking place in h2g2's own Flea Market.
Interview with a Scavenger
Why do people rescue articles from the Flea Market? What are the benefits? This issue we interview Florida

Sailor to see if we can learn more:
Bluebottle: So far, you have one approved Flea Market Rescue - The Sea and one coming up - Night, and How to Cope with it. What made you decide to rescue these?
Florida Sailor: The Sea1 was a fairly early entry for me, my original draft, with the Peer Review notes can be found here and was created 01 November, 2003. I was fairly new to the site, although I had already put several entries through Peer Review. I thought the vast size of the entry would be a challenge, as you can tell by my handle it was of interest to me.


'The Night'2 I recently stumbled on while a couple of the editors were suggesting to 'Return it to Entry' I read the article and thought it had some unique ideas and asked to be given a chance to Rescue it.
Bluebottle: Do you only rescue articles about subjects you know well?
Florida Sailor: I only write about things I am interested in, whether a new topic or a Rescue. How much personal knowledge I have is rarely a consideration at the start. If the subject is interesting enough I can find the facts.

Even when writing on subjects I have been considered an expert on, several hours are spent on additional research. Things like how other counties view the situation, latest research and other points of view all need to be considered. When adopting a Rescue you usually find yourself writing an Entry that you would not have even considered yourself, and you get to learn new things about the subject.
Bluebottle: Do you approach a Flea Market Rescue any differently to how you write an article from scratch - is it easier or more difficult?
Florida Sailor: The first thing you must do with a Rescue is to read it through, several times. Next you go through the back-log. This can be a little difficult to understand, as the original Author may have made several changes to comply with the comments - the original content no longer exists. It is easier in the sense that you have a boilerplate template to start with, it can also be more difficult for the same reason. Once you have a complete story before you it can be hard to make drastic changes.
Bluebottle: How do you decide what to keep and what to edit, and how much of a right do you feel that you have in making decisions about the article?
Florida Sailor: When I make a commitment to spend the time and energy to rescue an entry and am placing my name on it, I feel I have the right to make any change I see fit, up to and including a complete re-write.


That said, I feel a certain responsibility to the original Author to retain some of the flavour and style of the original. Part of the reason I chose to do the Rescue was that a glimmer in the Entry caught my attention. It would be foolish to throw that away. I try to keep at least one paragraph intact, or at least recognisable by the original Author.
Bluebottle: Why did you rescue the articles you have?
Florida Sailor: As I said the first was primarily because of the subject, the second more for its content. I am currently working on a third that is both an update and a rescue. It is a story about an Entertainer I have known a bit about for most of life, but I now know that I really did not know much.
Bluebottle: How is this coming along?
Florida Sailor: I have adopted an Entry on the singer 'Buddy Holly', who was tragically killed in 1959. The version I found in the Flea Market appeared to be rather disjointed and poorly laid out.


The research for this one has been most interesting, including 2 other versions of the Flea Market entry itself. With a little further reading found that there had been an early Edited Entry from 2002. This was rather short, only containing the often repeated legend of the star's life. The second author's Entry was more of a creative effort about the actions and events of his life, and seemed to avoid any part of an actual biography.
Bluebottle: Would you recommend doing Flea Market rescues to other researchers?
Florida Sailor: I highly recommend anyone to try a Rescue, especially if they want to flex their writing skills by trying other styles.
Bluebottle: Also, I believe you were involved in entry How to Draw a Regular Pentagram by U198318 that itself was rescued by Gnomon?
Florida Sailor: My involvement in this one was small, I added the section on constructing the pentagram with compass and straight edge. As drafting is my profession I was only sharing a technique I was quite familiar with. Of course these days I do it with a few clicks on the mouse and a keystroke or two.
Bluebottle: How do you feel about being on the other side? Of having something you wrote adapted by someone else, re-written and rescued?
Florida Sailor: That almost happened once, as my Entry on 'Bolts, Nuts and Screws' was completing its run through Peer Review, I got distracted from the site for a while and just let it be. Fortunately the Sub-Editor was able to pull it through, but if someone had stepped in I was prepared for the result.

Part of the spirit of the site is that any Entry can be update by anyone if they feel it is in the best interest of the Guide. Like any Author I have my ego, and am convinced nobody will want to change my words.
Flea Market Rescues Currently in Peer Review
These are the articles being rescued from the Flea Market that are currently in Peer Review. Why not help by reviewing the new version of the article? Articles in Bold are new entries which have been submitted since the last issue of SuperMarket.
Everyone who reads through and comments helps improve the articles until they are the best they can be!
Recommended Rescues
Since the first issue, two Flea Market Rescues have been recommended from Peer Review! The first is The Millennium Dome, which was based on article Millennium Dome by Isabelle.
The second was Walls, based on a combination of A10150480 by Think-AmWalls by Vip and A28966729 by Skankyrich.
We look forward to seeing these on the front page soon.
Articles about Games
Here is a selection of Articles remaining in the Flea Market and awaiting a rescuer. This month's theme is 'Games'. Have you played any of these board or computer and video games? If so, why not rescue these!
Previous Post Flea Market Features
Of course, this is far from the first time the Flea Market has been featured in The Post. Why not look at OpticalIllusion's Introduction to the Flea Market?
And Remember...
The Flea Market needs You! Why not see if there are any articles amongst all the Flea Market that catches your eye.