Sporting With Egon
Created | Updated Mar 19, 2004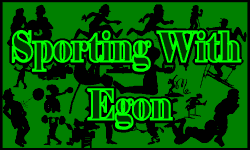 An ominous start for England in the Ashes, the end of Mick McCarthy and a surprising premiership table.
ASHES TO ASHES
Last week the English and Australian cricket teams played the First test of the Ashes series, and for English cricket fans like myself it did not make happy viewing.
On Day one of the first test, England captain Nasser Hussain won the toss, but made the utterly bewildering decision to send the best batting team in the world in to bat on a pitch which looked good for batting. Stroke of genius. By the end of that first day, Australia racked up a total of 364 for 2 wickets, Matthew Hayden and Ricky Ponting both scoring centuries, while young England fast bowler Simon Jones suffering a horrific knee injury which will put him out for at least six months. Not a very good start.
The second day saw a vast improvement by England, and an extreme downturn from the Aussies, who, once Hayden went for 197, nosedived to 492. Also, England made a good start with the bat, thanks in part to some seriously inept Australian fielding, Adam Gilchrist missing an easy stumping of Mark Butcher, and other catches going down as Marcus Trescothick, in particular, looked very assured.
The enthusiasm many England fans had felt on Day 2 began to evaporate on Day 3 as the team fell from 268-3 to 325 all out, giving the Australians an 167 run first innings lead. England's first five batsamn, Michael Vaughan, Marcus Trescothick, Mark Butcher, Nasser Hussain and John Crawley played well, all but Vaughan scoring fifties, and Crawley ending the innings not out on 69. However, with Jones absent injured, the other five batsmen managed just 29 runs between them as Glenn McGrath showed again why he is widely considered to be the World's best bowler.
Australia declared their second innings while on 296-5, Hayden scoring 103 to take his total for the match to 300. This declaration left England a target of 464. It was at this point of the fourth day that England ran the white flag up the flagpole and surrendered the Ashes. They were bowled out inside two hours for just 79, 40 of which were scored by Mark Butcher. Vaughan, Crawley and the veteran Alec Stewart all failing to score. Stewart, who got recalled to the England team in the summmer after being dropped last winter, had the ignominy of picking up a pair1, facing just three balls in the entire match.
This embarrassing defeat immediately shows how far behind Australia England really are. Despite occasional flashes of brilliance, England could best be described as 'consistently inconsistent' - when they get in a good position they can't capitalise on it the way the ruthless Australians do. That's why Australia will win the Ashes - they are consistently brilliant rather than occasionally brilliant.
WHERE NEXT FOR IRISH FOOTBALL?
Ever since a certain Mr. Roy Keane, the Manchester United captain who I regard as one of the more repellant of our professional footballers, walked out on the Republic of Ireland world cup squad he was supposed to be captaining, Mick McCarthy's job has been in danger. McCarthy, originally from Yorkshire, played for Ireland in the 1980s and 1990s due to his being of Irish descent, and when Keane walked out on the squad, he is reported to have called McCarthy an 'English [expletive delted]"'.
Despite the Irish actually having a quite acceptable World Cup, the supporters turned on McCarthy, chanting Keane's name at matches. Well, the Morons won. Mick McCArthy, a man of integrity, resigned from his post of Ireland manager because that country's supporters were taking the side of a spoilt brat who abandoned his nation. Shame. The new manager may well turn out to be former Sunderland manager Peter Reid, who will be left with a difficul choice - does he accept Keane back, and face the wrath of the players, or leave him out and face the wrath of the fans. If Reidy takes the job, I hope he realises what he's letting himself in for.
THE PREMIERSHIP
There is a changing order of Premiership football. My beloved Everton, a laughing stock for so long, have beaten Arsenal and Leeds, put Newcastle out of the Worthington Cup, and now find themselves fourth in the league, looking up to only Liverpool (top), Arsenal (2nd) and Chelsea (only ahead of Everton ong oal difference). Manchester United have slipped to fifth following their gloriously humiliating 3-1 defeat against their deadly rivals Manchester City. City's goalkeeper is United legend Peter Schmeichel. Shaun Goater, who scored two of City's goals, was brought to England by united Boss Ferguson, and scored his 100th City goal in the match, the last derby at Maine Road before City move to their new ground next year. And oddest of all, Sunderland actually won a match2. Oh, and Middlesbrough beat Liverpool, putting them in a useful position. Watch out people - The Premier League is not as predictable as once it was. The era of the Red Devils is over. And Everton have the hottest young talent in the country. Life is good.
CHAMPIONS LEAGUE SHOWDOWNS
This week was the last week of the first group stage of European football's Champion's League, and with Arsenal and Manchester United safely through to the second stage already, it was time to ignore them in favour of Liverpool and Newcastle.
Now, a brief exoplanation- there are 8 groups of four teams in the first group stage. Each of those four teams in each group play each other home and away, with the top two qualifying for the second group stage, third going into the UEFA Cup and fourth getting knocked out of European competition for the season.
Now, Liverpool were in a group with Valencia, Spartak Moscow and Basle, and they had to win their last match, away to Swiss side Basle, in order to finish second to Valencia. Some amateurish defending left them 3-0 down by half-time, and seemingly out of the competition, but they fought back in the second half, with Danny Murphy and Vladimir Smicer pulling the score back to 3-2 before Michael Owen scored with the rebound after having his penalty saved seven minutes from time. For the remainder of the match Liverpool threw everything at Basle, but found no way through and were eliminated to trudge into the UEFA Cup which they won two seasons ago.
Newcastle's group pitched them against Juventus, Feyenoord Rotterdam and Dynamo Kiev, and the Toon Army lost their first three games. They then bounced back with victories over Juve and Dynamo, which meant they would qualify if they beat Feyenoord and Dynamo didn't beat Juve (are you following this?). Newcastle took a 2-0 lead over the Dutch side through Craig Bellamy and Hugo Viana, but allowed Feyenoord to get back in the game, goals by Bombarda and Lurling levelling the score at 2-2 with 20 minutes left. While this was happening Juve were busily beating Dynamo, so if Newcastle could just score one more they were through. And in the dying seconds, Bellamy scored that goal to complete the Toon Army's unlikely comeback from 0 points after 3 games, to 9 from 6 games, and a place in the next round.
American semi-ovoid Football Report 11/11/02 (which is Veteran's Day, in remembrance of all who served our country, commemorating the day the guns went silent in 1917.

Corporate America wants clear winners and losers so they have have plusses and minuses on their spreadsheets. When i gradjudated hi skool in '74, the Powers-That-Be decreed that pro football games not end in a tie, and instituted a sudden-death fifth quarter to determine a winner. The visiting team chooses in a coin toss, with the winner gaining first control of the semi-ovoid pointy football, and the first team to score is the winner.

For the first time in five years, and only the 16th in 28, two teams battled for 75 minutes of game time (which stretched nearly five hours with commercials, promos, instant replays and just plain blather from the announcers) and ended in a 34-34 tie. The Pittsburgh Squealers (uh, it's really the Steelers) ended the overtime period a half-yard away from scoring and the Atlanta Falcons had overcome a 34-17 deficit, sending Corporate America into a spreadsheet tizzy.

The city-owned Green Bay Packers continue to lead the whole NFL and their National North conference with an 8-1 mark, while San Francisco is 7-2 in the West, N'Awlins and Tampa Bay 7-2 in the South, and the Philadelphia Eagles at 6-3 and the Noo Yawk Giants 5-4 in the East.

The picture in the American West is less clear, with the Denver Broncos and San Diego Chargers battling in the West, while many and sundry 5-4, 5-5, 4-5 teams vie for the lead in the North, East and South divisions.

Noteable: for the first time in NFL history, two quarterbacks each passed for more than 450 yards in separate contests, and both are 'backup' QB's (not expected to play an important role during the season, but put into position because of injury and/or ineffectiveness of the 'starters' which is not unlike switching your goalie, I guess.)
Marc Bulger (whatta name!) threw for 453 yards and four touchdowns as the St Louis (used to be LA) Rams defeated San Diego, while Tommy Maddox of the Squealers had 473 yards and 4 TD's in the tie game.

The beloved Cleveland Browns, after a bye week, travel downstate to meet the Cincinnati Bungles (uh, Bengals) next week, while arch-rival Green Bay and Minnesota (the Vikings) square off, followed by San Fran (the 49'ers, after the 1849 Gold Rush that somehow developed Levi's blue jeans) travelling down the Left Coast to play San Diego.

American football: we bounce funny.
RUGBY UNION
While we're on the point of bloody silly perversions of football using oval balls, it was brought to my attention3 that the England Rugby Union team beat the All-Blacks (New Zealand), and some chap called Jonny Wilkinson got a lot of points. In my defence, my knowledge of this noble art of beating the crap out of each other is sketchy, as I have an aversion to the sport that caused me so much pain and sufffering in High School, but this appears to be quite a good result, although it has led to All-Black Wing (is that right?) Jonah Lomu4, swearing revenge. Oh well. At least the English appear capable of beating Antipodeans at something, and after that Ashes performance, we should be delighted.
Egon
1Meaning that he was dismissed for 0 (otherwise known as a duck) in both innings. If a player is dismissed for a 'duck' first ball he faces, as Stewart was in the second innings, it is known as a 'golden duck', and if he is dismissed first ball in both innings, it is a 'king pair'.
2Which is good news for me as it puts the locals in a good mood.
3Mainly due to the fact that I was sitting in a bar watching it. Well, I was in the bar to watch the Manchester Derby, but couldn't be bothered leaving when the rugby started.
4Not to be confused with the popular actress Joanna Lumley.