Moderator FAQ
Created | Updated Jun 13, 2006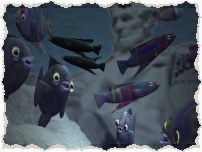 Who are the Moderators?
Moderators are professional lurkers employed by a company contracted to the BBC with editing rights to remove material in posts or guide entries that breaks the house rules. There are a team of about 12 moderators, some of whom work part time, others full time. Many of us are students, others fancy themselves as poets, artists or musicians but earn a living from moderating the guide. Its a nice flexible job usually worked from home, and the pay ain't bad.
How did you get the job?
Applied to an online advert, interviewed, got it. Most of the mods are seasoned internet users, some of us have moderated other websites or our own message boards or sites. The qualities the moderation company look for are balanced judgement, computer skills and the ability to read.
How do you decide what's to moderate?
We work to ensure that content complies with the House Rules which are set by the h2g2 editors. Deciding what is and is not 'offensive' can be a difficult task, but most of the time we are only asterisking your bad language, removing broken links and spam. We remove sexual conxent that crosses the line between 'seaside postcard' innuendo and offensive obscenity. Moderating the more in-depth and political threads is more difficult, and borderline decisions are refered to the italics for a final decision.
Are you evil censors who despise freedom of speech?
No, we are just cyber bouncers at the h2g2 arms. If you don't like it you are free to go elsewhere and talk dirty or libel celebrities. But the BBC won't stand for that behaviour.
Do you read everything we say?
Yep. Everything, from the first page, like 'hi is anyone out there' to the insults to the moderators (
to you too!) to the most heartbroken journal piece. Some of the entries are facscinating, and I now know a great deal more information thanks to you guys. It's sometime wildly innacurate, it's information overload, and much of its almost entireley irrelevant, but thanks anyway for the brain food.
What's it like reading h2g2 for 8 hours a day?
Well, as any commited h2g2 lurker will know - its a wierd and hoopy place, with some odd and interesting conversations and entries. We read all conversation posts in batches of twenty out of context, so its not uncommon to have a series of smileys followed by 'a mass-theological debate on the existance of god', then an 'anti-war rant' and an 'I like marmite...' Weird juxtopositions of random h2g2 for hours on end can get tiresome after a long time though.
What do you think about peer moderation at h2g2?
I'll be interested to see how it goes with freedom of speech at the bcc, so good luck guys. We will be moderating other websites for the BBC, which are not considered hoopy enough for self censorship as h2g2 is. We will however still be moderating posts or entries that the community complains about, and able to edit or hide any offensive or illegal material that's brought to our attention. Its a kind of reactive rather than proactive policing, and probably a better thing.
I'm glad not to be out of a job though, and do think that moderation to house rules, when done right, is a benefit to maintaining a postitive community vibe. I think that some moderation or editing to remove offensive comment will always be needed on certain bbc sites, where the editors wish to maintain a certain atmosphere of friendliness or balance.
Have you read 'The Hitchhikers Guide'?
Most of us have, I think, though its not a compulsary part of training. I remember the radio series from listening as a small child, and have read the books, seen the TV show and even got the LP somewhere. It is indeed a wholly remarkable thing that U42 unleashed, and its been one of the strangest jobs I ever had to moderate h2g2.