Dawn of a New Error
Created | Updated Dec 23, 2003

A rose by any other name... would still taste worse than toffee....
THE COMMITTEE FOR ALIEN CONTENT (CAC, or 'the Committee', or 'them over there who won't be quiet' - who used to be agg/gag) HAS CHANGED ITS KNICKERS AND IS NOW READY TO STRIDE INTO THE NEXT MOLYBEDENIA WITH A SMILE ON IT'S FACE AND A SONG IN IT'S JUMPER.

The whole '42' thing has gotten a little preciously soggy in some respects, so we thought we'd just drop-kick the whole 'number' thing into a cocked hat and emerge from the smoke and mirrors as a rather more streamlined and steam-cleaned version of the same old thing.
New, new, NEW and imprOved... doing the Can-can with your mind and our fonts. Welcome to the way things would be, if we could convince our therapists to get off the phone with our wives and reduce our medication.


As this is the dawning of a new error,
we have decided to start with a reasonably clean slate,
an unblotted copy book, and leave out much of the usual dreck
that we usually dreck the page up with.
All other things being unequal, we will resume
with the imprecations and accusations in time,
leaving no doubt at all with whom the indictments need to be laid...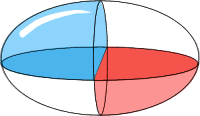 Escape Pod Dreams
by that good ol' retractable boy (tonsil revenge)
will appear in the post next week. Here is a small map of the direction in which it will go:
THE RADIO SHOW ISSUE
In the spirit of new beginnings, both our's and (tonsil's), we have decided to punch our toe through the ice of indifference and waggle it in the waters of hope by presenting a laundry list of soiled entries designed to give you the impression that your mind's ear is being assaulted with good ol' fashioned radio programming of the sort you might have heard as a child - if you'd put down that toy nut-cracker and stopped making 'beep-beep' noises.
SEMI-FINAL COMMENTS
It must be said that we are gratified that a lot fewer researchers than we had suspected have been ignoring us.

In fact, it might have been we'uns who were ignoring you'uns. In any case, we offer the hope that some day the italics will truly begin to understand what we are attempting to do... and, bowing their heads... swiftly put a stop to it!
Finial comments and a bent addiction
In the words of the great songwrighters of the last century before last, Schwenck and Seymour, upon discovering that their first royalty cheque from the S'Queaky Weel production company was able to be drawn on, they wrote this appreciation:
A man may scratch and scribble

A lifetime without a nibble

Of glory or love or applause

Of glory or love or in-laws!

We was the very models of impecunius wannabes

As spare and rare and obscure as chocolate wallabies

But now, as the Gods do smile, and fill our pockets,

We think we better save our pants

And go and purchase Wallets!
So long, and remember, if you find work, it's best to poke it with a long stick before you approach it. It's been known to bite.