AGG/GAG - 32
Created | Updated Jul 17, 2002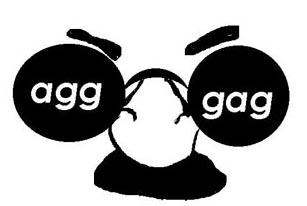 Open your mind and say,'AWW'
Weird Science

First/Personals

Fiction


Satire
Kitchen Syncronicities

New link to H2G2 Fiction . Check it out!




This Week:
The foundation of AggGag is our shared belief in freedom of expression.

The only criteria for an AggGag entry should be:
"Does it communicate... something?"



If it was written by a human being to share with other human beings
- a feeling, a story, a theory, a joke, an idea, hope, love, laughter -


then it is our calling and our duty to present it to a wider audience,
and to preserve it in our legacy, the AggGag archives.

From a 15 year old living in Isreal
From another teen with less to worry about


Our newest member
recently honoured by the Ministry of Black for these dark investigations
"Come here often? What's your sign? What's a nice girl..?"

A close encounter of the shaving kind
Coming Soon
Deidzoeb is working on a comprehensive
AGG/GAG Games for a Rainy Day page
and promises original games, links to game areas on h2g2, role-playing or board games and
card games or word games. And, as a last resort, maybe computer games.
Stay tuned!

NEXT WEEK:

We will once again stir the pot,
so look for us in the slightly embarrassed
h2g2 Post .




Meanwhile, as always, we wait for any similarly perverse folk to
join us.
The AggGag School of Thought:

Our Linx: