Wimbledon 2002
Created | Updated Mar 19, 2004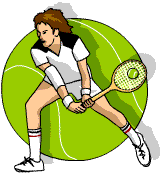 Not enough shocks for you in football's World Cup? Welcome to Wimbledon.
Men's Singles
Victory for World No 1 Lleyton Hewitt, who only dropped two sets in the whole tournament, both against 18th seed Sjeng Schalken in the Quarter-Finals. Hewitt was one of the favourites for the title, so him winning wasn't so surprising. What WAS surprising was the rest of the tournament. Unlikely stars included:
David Nalbandian (28th Seed, Argentina). First senior tournament on grass, and this 20-year-old Argentine went all the way to the final before being destroyed by the all-conquering Hewitt.
Xavier Mallise (27th seed, Belgium). Lost to Nalbandian in the semi-finals, coming back from two sets down to lose 3-2 after suffering heart palpitations in the first set. Disposed of Yevgeny Kafelnikov, Greg Rusedski and Richard Krajicek.
Sjeng Schalken (18th seed, Holland). Only player to take a set off Lleyton Hewitt, taking him the distance in the Quarter-Finals.
Richard Krajicek (Holland). Injury prone 1996 champion returned from 20 months on the sidelines and made it to the Quarter-finals despite having knee, back, toe and muscle injuries.
Georg Bastl (Switzerland). Lucky loser put Pete Sampras out.
Paradorn Srichaphan (Thailand). A player previously of interest only to those of us who fill in Wimbledon wallcharts, Mr Srichaphan dispensed with Andre Agassi.
Olivier Rochus (Belgium). Another one for the wallchart compilers. Olivier dispensed of his litle brother Christophe, before putting second seed Marat Safin out.
And then there were the favourites who didn't do much at all. Where to start?
Pete Sampras (6th seed, US). Seven-times champion put out in the second round by Georg Bastl, a former Swiss junior Ice Hockey player.
Andre Agassi (3rd seed, US). Hotly tipped. Out in straight sets, also in Round Two.
Marat Safin (2nd seed, Russia). Also a second-round exit, to Olivier Rochus. Went out on same day as Sampras and Agassi.
Yevgeny Kafelnikov (5th seed, Russia) and Greg Rusedski (23rd seed, Britain). Both dispatched, in the third and fourth rounds respectively, by Xavier Malisse, the surprise package from Belgium.
Roger Federer (7th seed, Switzerland). 'The new Sampras' went out in the first round to Mario Ancic, Goran Ivanisevic's 18-year-old training partner.
Thomas Johansson (8th seed, Sweden)
Matches of the Tournament (Men's singles)
Richard Krajicek (Holland) v Mark Phillipoussis (Australia)

One-time champion Richard Krajicek had barely played in 20 months before this year's Wimbledon. Mark Phillipoussis was in on a wild card (like Goran Ivanisevic last year) having slipped down the world rankings due to snowboarding injuries. Yet the two Wimbledon heroes produced a classic, trading tiebreaks until Krajicek won the fifth 6-4 with one break of serve, three days after the match was supposed to finish.
Sjeng Schalken (Holland, 18) v Lleyton Hewitt (Australia, 1)

Hewitt walked the first two sets and spurned FOUR match points in the third. Schalken took the third on the tiebreak and won the fourth easily, Schalken was twice a break up in the fifth, but both times Schalken broke back. Hewitt finally won it 7-5.
And no Wimbledon Men's singles review could omit the semi-final specialist.
Tim Henman (4th seed, Britain).

Backed by the press and his absurd band of 'Henmaniacs'. Aided against Wayne Ferreira by the stupidest overrule in tennis history. Had trouble against players even the wallchart compilers hadn't heard of until this year. And the first time he went up against a seeded player, Hewitt tore him apart. Just another Wimbledon for Tim Henman...
Women's Singles
Not content with toppling big sister Venus from the world number 1 slot, Serena Williams (2nd seed, US) beat her in straight sets to deny Venus a third consecutive Wimbledon singles title, and to add insult to injury Serena won the tournament without losing a set. But, other than Serena, who else was a heroine in this year's Women's singles?
Justine Henin (6th seed, Belgium) beat Monica Seles (4th seed, US), but last year's defeated finalist again found her beautiful backhand and divine shotmaking ripped apart by the pure force of Venus Williams (1st seed, US) in the semifinal.
Amelie Mauresmo (9th seed, France) beat the only woman in the draw who could really challenge a Williams, Jennifer Capriati (3rd seed, US) and made a good start against Serena in the semi-final before being outfought.
Elena Baltacha (Britain). She may have been born in Kiev, but she won two matches at Wimbledon, including victory over Amanda Coetzer (32nd seed, South Africa), so we're making the most of her Scottish upbringing, alright?
Daniela Hantuchova (11th seed, Slovakia). 'The Legs from Slovakia' disposed of Natalie Dechy (25th seed, France) and Jelena Dokic (7th seed, Yugoslavia) before becoming just another victim of the Serena Williams steamroller.
Elena Likhovtseva (Russia). Beat Kim Clijsters (Belgium, 5), Maggie Maleeva (Bulgaria, 19) and Elena Baltacha (see above) before falling victim to Venus Williams in the quarter-final.
And those who didn't perform:
Anna Kournikova (Russia), who hasn't been in good form this year, went out in round one to Tatania Panova (21st seed, Russia), and was unfairly villified for objecting to Gary Richardson's appalling interview technique - he tried to tell her her confidence was low (she quite rightly pointed out that he wasn't in a position to know that) and treated her with a lack of respect, bordering on disdain.
Kim Clijsters (5th seed, Belgium) had to be content with watching her boyfriend, Lleyton Hewitt for most of the tournament as she crashed out in the second round to Likhovtseva in three sets.
Anna Smashnova (15th seed, Israel). Out in the first round to Miss A Widjaja of Indonesia (I'm sorry, that's all I know about Miss A Widjaja and I got that from the wallchart. She went out in round two).
Men's Doubles
Final - Jonas Bjorkman (Sweden)/Todd Woodbridge (Australia)[5th seeds] beat Mark Knowles (Bahamas)/Daniel Nestor (Canada)[2nd seeds]
Todd Woodbridge wins his 7th Wimbledon Men's Doubles title, his first since the retirement of his old partner Mark Woodforde.

SURPRISE: The fact that, given Woodbridge's past record, he and Bjorkman weren't ranked higher.
Women's Doubles
Final - Venus and Serena Williams (US, 3rd seeds) beat Virginia Ruano Pascual (Spain)/Paola Suarez (Argentina)[2nd seeds]
Williams sisters win the first set easily but have to fight for the second as they regain the title they won in 2000.

SURPRISE: Anna Kournikova (Russia)/Chanda Rubin (US) gave the Williamses a run for their money in the semi-final, having dispatched 2nd seeds Lisa Raymond and Rennae Stubbs (US). Martina Navratilova (US) and Natasha Zvereva (Belarus) only reached the second round.
Mixed Doubles
Final - Mahesh Bhupathi (India)/Elena Likhovtseva (Russia)[3rd seeds] beat Kevin Ulyett (South Africa)/Daniela Hantuchova (Slovakia)[4th seeds]
Likhovtseva follows up her impressive singles performance by partnering Indian Davis Cup legend Bhupathi to the last main title to be decided at this year's Wimbledon.

SURPRISE: Jonas Bjorkman (Sweden)/Anna Kournikova (Russia)[7th seeds] knocked out Todd Woodbridge (Australia) and Martina Navratilova (US), two all-time doubles greats, but fell in the quarter-finals to Bhupathi and Likhovtseva. But, on the day of that quarter final, Bjorkman had been involved in a five-set men's doubles semi, and the match started ten minutes after Kourniukova had got off court from her women's doubles semi-final. Not a bad two weeks for Kournikova though, since her Wimbledon was described, on BBC TV, radio, ceefax, probably the website, and most newspapers, as over after she lost her singles match, and yet she was still there on the second Saturday.
So, that was Wimbledon. Some surprises, champions who could probably have been guessed beforehand and some umpiring in favour of the home players.

What was that I was saying about the World Cup before.
Egon