Charity Begins
Created | Updated Dec 17, 2010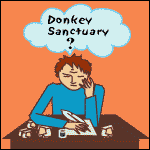 Dear Mr North,
Thank you so much for your kind donation of £50. This is much appreciated and will be allocated to our Sudanese village project. It's through acts of kindness such as yours that we are able to pursue the good work of the society.
Yours sincerely, Iris Peabody (Miss).
Dear Miss Peabody,
Thank you for your kind letter, but I feel your gratitude is misplaced on this occasion, as I actually sent only £5. I would like to send more to what is a very worthwhile cause of yours, but I currently support a number of charities, and spread my donations across them. I am delighted to hear that someone has sent you such a substantial sum, and I hope your thanks find their way to the donor.
Yours sincerely, I. North.
Dear Mr North,
We are overwhelmed by your generosity. £5,000 will not only see the fresh water well dug, but will provide urgent cataract operations for thirty villagers, restoring to them the precious gift of sight. We are delighted to send you our framed 'Silver Patron' certificate, and your kindness will of course be mentioned in our quarterly magazine's Roll of Honour.
With many thanks, Iris Peabody (Miss).
Dear Iris,
Thank you for your letter, but I believe there has been a mistake. I sent you a small cheque in August, but you have incorrectly attributed to me a very substantial donation, which I applaud, but which was not of my doing. I have returned the certificate to you.
Yours sincerely, I. North.
Dear Mr North,
Words cannot describe the surprise and delight which resounded through the office when we received your latest donation. Our Sudanese village project has now been fully funded, and we can start planning drought relief programmes in Mali and Burkina Faso - thus fulfilling our late founder's dream. A brass plaque has been added to our Patrons' Wall with the following wording:
I North

Life Patron

£50,000
You are welcome to come and visit it at our Swindon HQ at any time, without prior appointment, when I or one of my colleagues will be happy to give you a guided tour of the office. Please accept as a small token of our thanks a signed copy of our late founder's autobiography.
Yours sincerely, Iris Peabody (Miss).
Dear Miss Peabody,
Please could I ask you to you review your system for thanking donors? You have now incorrectly attributed to me three large donations, none of which were of my doing. I sent you £5 in August, but have sent no money other than that (although I would hope to send some in future, of course). I do not deserve the life patron plaque which you mentioned, and I am afraid you will need to replace it with one which credits the real donor. Please could I ask you to call and collect the book, as it would be quite expensive to return to you by mail. Please would you also issue a correction in the next quarterly magazine regarding the source of these donations.
Yours sincerely, I North.
Dear Mr North,
It gives me great pleasure to inform you that you have been recommended to receive the award of Order of the British Empire (OBE), for services to charity. The award ceremony will take place at Buckingham Palace in the spring. For security reasons, details of the arrangements will be sent out nearer the time. Please could I ask you to confirm your acceptance using the pre-paid envelope provided? On behalf of the British Government, I would like to congratulate you for your deeds in the service of our country.
Yours sincerely, Sir David Farquharson-Williams, Cabinet Office.
Dear Mr North,
I am writing on behalf of the University Council to invite you to take up the chancellorship of Swindon Metropolitan University, following the sad death of Sir Nigel Tonghouse earlier this year. The Chancellor is the titular head of the University, elected for life by the Council (all of whom are departmental professors). The Council's unanimous decision to invite you is in recognition of your laudable charitable work. We are convinced that your appointment will bestow a positive influence on the charitable activities of the student community, coming so soon as it does after the establishment of the North Chair of Overseas Development Studies earlier this year. Please would you write to me to confirm your acceptance of this office.
Yours sincerely, Professor Dame Marlene Ribbenthorpe-Watt DBE MA PhD DL, Vice-Chancellor.
Dear Mr North,
I am delighted to invite you as VIP guest to the ceremonial opening of the new extension to our headquarters office in Swindon. The event will take place on the 15th December at 10am. A BBC film crew will be present to record the occasion as part of their series "Philanthropy in the 21st Century", to be broadcast in the new year. David Dimbleby will be attending, and would welcome the opportunity to interview you for the programme. The BBC producer will be in touch with you in due course. The charity welcomes the publicity the media exposure will bring, and we are sure that you would be happy to give your time on this occasion. After all, it's not every day that we receive six-figure donations!
Just one question: we are concerned that naming the extension 'The North Wing' may be misconstrued as a purely geographical name. Would you have a Christian name which we could use? Iris tells me that in all her dealings with you she has never learned your full name.
Yours sincerely, Millicent DuPont DBE, Chief Executive.
Dear Ms DuPont,
You're sick - the lot of you. Please stop harassing me or I will call the police. Will you also write to HM Inspector of Taxes to inform him that I have paid you no such amounts.
I. North
Dear Lord North,
We are delighted to acknowledge your substantial donation. £5 billion is an amount unprecedented in the history of this charity, and one which will, on its own, completely revolutionise health and social services in all territories of sub-Saharan Africa. Not only that, but we will be building schools in the war-torn regions of the Democratic Republic of Congo, as well as housing all those left devastated by the recent Asian earthquake. I am constantly humbled by the scale of your beneficence and I enclose a DVD of some of our work, containing a personal message of thanks to you from orphan Tayeb, aged 7. I'm not sure I mentioned this to you before, but please expect to get a call from the office of Time Magazine over the next few days with regard to their 'Man of the Year' photo shoot.
Yours sincerely, Iris Peabody (Miss).
Dear Miss Peabody,
Are you aware that £5 billion exceeds the combined gross domestic products of Eritrea, Lesotho, Burundi, Djibouti, Liberia and the Gambia? I am currently working as a lavatory attendant at Spelthorne Borough Council offices in Staines, Middlesex, and I have calculated that, being on the National Minimum Wage, it would take me over 400,000 years to earn that sum of money, assuming I took no holidays. If I donated a very generous 10% of my earnings to you, it would take me ten times as long to raise the amount - far longer, in fact, than homo sapiens is believed to have roamed this earth. I do however enclose a further donation of £5, in the vain hope that this may have some effect. Don't spend it all at once.
Yours sincerely, Mr. I. North (not Lord!)
Dear Mr North,
We acknowledge your kind donation of £5, which will go towards our Sudanese village project. I don't quite know how to say this, but over the last year we appear to have incorrectly attributed to you a number of substantial donations to the society. The error was discovered during a recent IT audit, and the fault has been traced to a Microsoft Windows 7 desktop upgrade. Please note our change of address, as we are downsizing our operation following a major budgetary review. In fact, this letter is my last action before I leave the employ of the society to seek pastures new.
Yours sincerely, Iris.
ps. Are there any vacancies at Spelthorne?
Icy's Quizzes and More Archive