Handcart Capers
Created | Updated Jun 14, 2010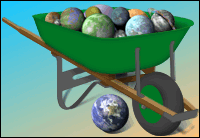 We were moving: Stratford to West Ham. Not exactly Peckham to Pimlico, but it did put three miles between me and Mrs Parkinson's burnt stew. That may be unduly harsh. She possibly also cooked un-burnt stews, but not in my memory. We had the downstairs flat at the end of the hall, and Mrs P had the big front room. The rooms that lay in the foggy half-light at the top of the stairs were always a mystery to me, but they were probably full of Mrs P's asphyxiated victims, all of whom had succumbed to the toxic waste that rose in a pyroclastic flow from pots atop the lava-encrusted gas rings in her bedsit. Billowing clouds of hydrothermal fluid would bounce off her tobacco-yellow ceiling, slip through the inch gap over her door, and be funnelling up the stairwell before she became aware of the culinary catastrophe. She'd jump up from the front step, dropping the issue of Harper's Bazaar that she'd filched from the doctor's surgery, and dive into the pot two-handedly with a blunt instrument, scraping the rapidly forming deposit from the bottom of the pan in an attempt to mask its distinct flavours within the homogeneity of the now carbon-enriched stew. With her in charge of my dietary needs between school and mum's arrival from work, I was grateful to escape – even to West Ham.
We didn't have a lot to move. Our Carpenters Road abode was laughingly referred to as "furnished", which I think in the 1950s was some sort of euphemism for unsecured tenancy. We added a free-standing "kitchenette" cabinet with a dirty cream frame and lime green doors that required an unreasonable magnitude of torque to wrench them from their catches, and drawers that ran about as smooth as sledding uphill on warm tarmac. It was bought second-hand off someone that got it first hand from a second-hand shop. You needed to extricate everything you needed in one go; a good memory and outstanding organisational skills could save a lot of grief from the later opening and shutting of uncooperative cabinet parts. I was to pack its contents, including everything on top, ready for moving day. I decided to use its flap-down formica-clad work surface as a stepladder.
Now, this is where today's kids miss out on learning by practical example. Overfilled tin bath plus ten-year-old bather equals flooded floor: Archimedes' Principle. Lightly laden cabinet, plus five-stone boy on a two-foot flap: Newton's law of motion. I remember my mild surprise as the cabinet fell flap- (and boy-) first towards the bare floor. The only thing that saved the cabinet from complete demolition was the intervention of my puny body between it and the floor. But the flap-down flap never flapped up properly ever again. It was therefore, in a semi de-flapped state, with soft furnishings that no self-respecting bag lady would have been seen with disgorging intestine-like from its innards, that it was carted down Boleyn Road one sunny Sunday morning.
Dad's mode of transport was bike. Mine and mum's was foot. Bus if we were flush. We needed to get several hundredweight of valueless and soulless belongings from Stratford to West Ham – cheaply, so I borrowed our scout troop's handcart for the weekend. It took dad and me three trips: – one hour each way, six hours in all, via West Ham Park and Boleyn Road. For the first run we had a pretty neat-looking cartload: suitcases, packing cases, the odd carton from the corner shop. But nothing that looked shall we say ... like it was on the way to the scrapyard. But it was on the next trip, with the cabinet and its spewing bark-cloth alimentary canal on board, that Mrs 79 flagged us down.
"I nearly missed you." She was panting, and her breath, pushing out into the wintery air, reminded me of the smoke from Mrs P's Woodbines. "I've been looking out for a rag and bone man. We've just taken up some lino in the sitting room. We're having carpet," she boasted, "Want the lino?" I waited for Dad to put her straight.
"Let's have a look," he said. I was left guarding our embarrassment of chattels while he followed her into number 79's mud-brown doorway. He emerged with his prize of faded, fat-laden, cracked old lino and piled it onto the cart. "That'll do nicely in the living room. Come on." He grabbed the cart handles and strode off.
I stood, momentarily rooted to the spot. I didn't know whether to be desperately ashamed, or perhaps just a little proud. I lifted my head, adjusted my spirits, and happied after him.