Post - The 2002 Hampshire Meet Up
Created | Updated Jul 3, 2002
Sunday the 23rd of June 2002 saw the Hampshire Southampton Meet-Up happen in Southampton, Hampshire. It was in many ways a complete success, mainly because it actually happened.
Previous Hampshire Meet-Up Attempts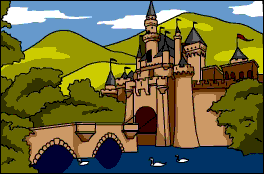 The first known attempt to arrange a meet-up in Hampshire began in the Summer of 2000. Bluebottle amongst others attempted to get a meet-up organised in Southsea, near Portsmouth, with possible activities including seeing Southsea Castle and Portchester Castle. Sadly, the 5 people interested were unable to find a day on which they all would be free, and the event failed to occur.
In the Summer of 2001, Bluebottle tried again to organise a meet-up, this time to happen in Southampton, meeting by the Bargate. Activities were to include seeing Southampton's Town Walls and castle. Sadly, yet again there was a very poor response, and in the end many of the people who had said they would go seemed to disappear from h2g2 in the weeks approaching the meet-up date. They have not been seen since.
After the previous two failures, Bluebottle gave up on the idea of organising a Hampshire meet-up, regarding it as doomed to fail. Little did he know that fate had decided otherwise.
The Plot Of The Hampshire Child Friendly Meet-Up
While Bluebottle had given up on the whole meet-up concept as a bad move, little did he know that there were other forces at work with the same idea.
Yes, namely Happy Little Elf and Purple Moose. They had decided that it was high time that a H2G2 Meet-Up was organised for the South of England, and began to organise one. Ideas such as meeting at a KFC in the middle of the New Forest, and towns such as Brockenhurst and Winchester being suggested, before finally settling on Southampton - chosen mainly because it had a large station with lots of trains going to, and would be easily get-to-able for everyone.
It was at that point that Bluebottle got involved, and decided that he had better leave the organising to other people, although he had offered to meet people at the station if they let him know they needed to be met.
While the long list of people who said that they would be interested in going grew, Bluebottle decided that though he would leave the organising to Happy Little Elf and Purple Moose, who had succeeded in getting something organised, he would help with the entertainment. This time castles were not mentioned, just to be safe, and instead Bluebottle chose to write, in true H2G2 tradition, a quiz.
The Creation Of The Quiz
This quiz, he felt, would be the perfect H2G2 Quiz. Bluebottle spent ages researching the questions, watching Doctor Who, all 6 episodes of the Television Series, plus documentaries, listening to all 12 radio episodes, and reading the novels, playing the computer game, getting stuck on the Heart Of Gold after having made the Infinite Improbability Drive, read Neil Gaiman's "Don't Panic" experienced Farnham, and even almost bought "Last Salmon Of Doubt", but on noticing that it was £18, and on thinking of how much debt he was in, Bluebottle bought Terry Jones' "Starship Titanic" which was £12 cheaper.1
The Hampshire Child Friendly Meet-Up Build Up
As the 23rd June approached, a number of strange things kept happening. Many people who said that they would definitely be able to come continued to say that they definitely would come, while others who said that they probably would be able to come said instead that they only may be able to come.
VIP, for example, was currently suffering from lack of internet access and a possible clash with her clarinet. Bluebottle had discovered that he was expected to attend a friend's 22nd Birthday Celebrations on the Island, yet he felt that he would be unable to get transport either to it or from it. Lizzy would not be able to attend if her parents realised she was planning to2. Purple Moose and Happy Little Elf themselves were wondering if they would be late attending the meet-up as they hoped to go shopping.
The Meet-Up
The day of the meet arrived, and the truth was revealed. Most of those who said that they may not be able to come actually did, and those who were definitely expected failed to arrive. At 3 o'clock by the library everyone gathered, with Bluebottle and his fiance, Sarah, the last to arrive. The two people who Bluebottle had arranged to meet at the station and take to the meet-up, Lizzy and VIP, had, in fact, met each other at the station and got to the meet-up before him while he was waiting for a very late bus.
The attendees were, in alphabetical order:
After meeting up, wading in the fountain by the library, throwing balls backwards and forwards and waiting half an hour for everyone else to arrive, which they didn't, the elite group of researchers went to see if they could find anyone looking for the meet-up by going to the station. After walking there and back, and seeing no-one about, the researchers went into the park.
It was there that Kaz distributed chocolate, much to the appreciation of everyone there. This was followed by Bluebottle's quiz, all 42 questions of it. As there were not enough people for teams to effectively work, everyone joined in to form a team of 6. The team managed to get 18 out of the 42 correct.
After that, and after chatting for a bit more, it was decided to go in search of food - a concept made difficult by many of the food shops being shut, as it was Sunday - and by everyone having a slightly different definition of what food was. It was at this point that Kaz and Lizzy were forced to, sadly, leave and go home. The 5 remaining researchers chatted for a bit, but sadly, as only 2 of the 7 researchers at the meet-up were over 184, they were unable to follow true h2g2 tradition by going to a pub. It was then, with heavy hearts and disappointment that many of those who had promised to turn up hadn't, that the day drew to an end.
However, the meet-up had happened. It had lasted a remarkable hour and 45 minutes, which although was probably less than the time it took VIP to travel to Southampton, was a whole hour and 45 minutes longer than any other previous meet-ups in Hampshire. And so the meet-up was left with big plans for next year, when after an increase from 0 to 7 attendees between 2001-2002, vast numbers are expected for the 2003 Hampshire meet-up.
1Bluebottle has since ordered "Last Salmon Of Doubt" from a bookclub for £6:99, awaiting delivery.
2Although meet-ups are fun and friendly, I recommend you in any case
follow the Meet-Up Guide-Lines.
3Bluebottle's fiance who has been Eccles and Fish Killer, who
attended despite not feeling well.
4Bluebottle and his
fiance, if you are interested