The h2g2 Poem: Happy Tenth
Created | Updated Dec 6, 2009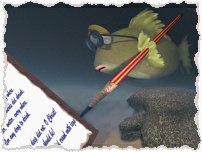 Happy Tenth!
The HooToo Post is ten years old,

And if I maybe make so bold,

I'd like to thank the powers that be,

For printing doggerel by me.
We need to thank the editor,

Who has the thankless, endless chore,

Of sifting through the gems and dross,

For which we barely give a toss.
We need to thank the others too,

For the terminally boring work they do,

Correcting grammar, punctuation,

Bad syntax and interpretation.
Then transposing it all into Guide ML,

A language – as far as I can tell –

Is designed to render the likes of me,

Transmogrified to apoplexy.
We stand in awe, in thanks, dismayed

A decade gone – but not decayed,

Badges for all who work therein,

Showing sapphires, daffodils and tin.