Just for Fun
Created | Updated Jun 22, 2003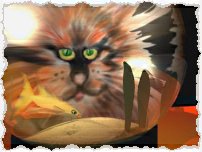 Well summer is truly here in England, hot sunny days and muggy nights...The purfect time to be indoors on your computer reading The Post.

IT'S A WRAP

The weekly movie quiz for all you film buffs out there...answers, as usual, in next weeks 'The Post'.




FALLEN


Don't Trust A Soul.


Who plays the part of John Hobbes?
What is the last form the spirit took at the end of the film?
Who played Hobbes partner?
Who plays Hobbes boss?
Who directed the film?
JOKE OF THE WEEK

A man went to apply for a job. After filling out all of his
applications, he waited anxiously for the outcome.


The employer read all his applications and said, "We have the
perfect opening for a person like you."


"Oh, great," he said, "What is it?"


"It's called the door!"




GET YOUR THINKING CAP ON

A question will be set every week for you all to try and answer. The question will be a mind-bending puzzle, and the answer will be given next week.

The question:-


There is one word in the English language that is always pronounced incorrectly. What is it?




FUN ON H2G2

I enjoy browsing pages on H2G2, so I thought that I would bring your attention to some of the fun researcher written pages I have come across on my travels.



If you are sitting beside the seaside and feeling a little bored, here's the purfect way to liven up your day. Burying oneself in the sand by beeline is an indepth article I just know you will enjoy reading...





CLICK HERE




NAME THAT SONG

Each week I will print a quote from a song, all you have to do is guess the title of the song and who sang it.

This weeks quote:-




"The world is growing older, and nothing stays the same... our
love will stand the test of time."



THE WEEKLY ANAGRAM

For those that don't know, an anagram is a word or words, formed from rearranging letters from another word or words. An example anagram would be, Cat Got Beer, which reaaranged makes my name Greebo T. Cat.

Each week I will print an anagram and a clue to what it is. You will have until next week to get the answer.





EXCITE TART ON PAGES


classic book





GREEBO'S BIG ONE

Would you like your say on the big issues of the day? Well here's your chance, click below to get transported to Greebo's voting booth, were you can answer the question of the week.

Results will be printed in two weeks time.

VOTE HERE




THE RESULTS - This vote saw the biggest turn out since Greebo's big one started... The question, What is your favourite direction, the answer...



32% of all researchers appeared to be lost, whilst another 32% of them loved the idea of North

16% quite fancied both East and West, they do say opposite attract don't they...

Only 4% thought South worth bothering with, down with South, thats what I say...




So there you have it!!! North wins...Unfortuanately a large percentage of researcher's are lost at this moment in time, so the vote is useless. Oh well, if you do happen to spot a fellow researcher wondering around aimlessly, please do help them out.. thankyou...






LAST WEEK'S ANSWERS

It's A Wrap

TOY STORY 2


Who owns all the toys?
Andy
Which one of the following is not in Toy Story 2, Slinky Dog, Rex or Froglet?
Froglet
What is the name of the science fiction toy?
Buzz Lightyear
Who is the voice of Woody?
Tom Hanks
What is the name of the prospector?
Stinky Pete

Get You Thinking Cap On


Q. Which is correct to say, 'The yolk of the egg is white' or, 'Yolk of the egg are white'?

A. Neither! The yolk of an egg is yellow!

Name That Song


How will I know? by Whitney Houston


The Weekly Anagram


HATE IS MILD = DELIA SMITH



AND FINALLY


Send your jokes, letters and anything else to me here:- Greebo T. Cat


Thanks again everyone...

Greebs