2nd September, 1939
Created | Updated Sep 16, 2009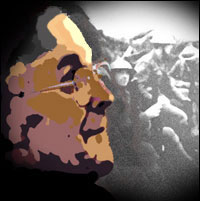 The following are the memories of our 'octogenarian' AlsoRan as written down two weeks ago.
Seventy years ago today, I grew up. I became an adult in 24 hours.
It was quite a metamorphosis for a twelve year old happy-go-lucky girl.
My parents, Papa and Maman had brought us over from South Africa for our biennial six months holiday to be shared equally between my paternal grandparents in the north of France and my maternal grandparents in the south.
However, our holiday was ended, and although my father never spent the full six months with us – he was obliged to return to South Africa earlier because the wool season sales started before our return, we had gone on enjoying our holidays in Wimereux, the delightful seaside village, just opposite to where I now live.
The 64 pieces of luggage were packed, the new Citroen familiale was ready to be taken back to South Africa, and all that was left for us to do was to bid sad adieus to our darling Grandpère and Grandmère and the assortment of cousins aunts and uncles who had come to say farewell to us at the ferry terminal at Boulogne-sur-mer, and for the family with our goods and chattels to cross the channel by ferry to Dover.
Our ship to South Africa, the Jaegersfontein, I believe it was, which had been booked months previously, was due to dock in Dover on Monday the 4th of September. We were sailing two days early, I wonder why?
We were guests of the representative of the shipping line in Dover, and the poor man must have been overwhelmed to see my pregnant mother, and four children, the eldest of whom was myself, arriving into his home.
Sunday, the 3rd dawned; as Catholics we found a nearby Church in order to attend Holy Mass. The priest was preaching, and the time was 11.15 am. Suddenly, a weird up and down noise of a siren started. We all looked at one another in a surprised fashion. The priest continued preaching, and then as the siren's wailing grew more intense and louder, he stopped. He quietly told us to go to the air raid shelter. We had gone to Mass with a friend as my mother was not too well, and so we were led by her into my first visit to the chalk cliffs of Dover.
What an experience. Twelve years old, knowing nothing about war, bombs, gas, submarines, torpedoed ships, zigzagging back to South Africa which took six weeks to escape U boats. This was to be my education for the next two months. All the time caring for my mother and my three siblings. No wonder I grew up.
It was not long before the atmosphere inside the chalk cliff grew quite foetid, and I, in my new-found adulthood, just knew that gas bombs had been dropped; but by whom and how was not considered, but I could quite definitely smell gas.
However, we had no gas masks, and I – honestly, when I think how stupid I was – had a little waterproof rain hood in my pocket. I took it out and placed it over my face. I must have looked a proper banana there. I cringe when I think about it.
When eventually there was another siren, and the All Clear was given, we went back to the house where we were staying. The news of course was that WW2 had been declared, and that a lone German aircraft had done a recce above Dover which had precipitated our rush to safety in the cliffs.
The next six weeks were unbelievable. We had been booked to leave on the Monday, but come Monday and the Jagersfontein sailed straight past Dover, leaving 56 South Africans stranded of whom five were our family with all our many belongings.In parenthesis, I must say that it appeared that our berths had been taken by 56 German who were resident in South Africa. When they arrived in South Africa, they were promptly interned and spent the rest of the war in an internment camp at Koffiefontein in the Orange Free State.
My mother took to her bed,and for the nest six weeks it was my daily duty to go down to the shipping offices to see if a boat was leaving for south Africa. Of course they were, but we were certainly not on them! Fortunately my parents had friends in London and eventually space for the family and all our goods and chattels was found on the Dunbar Castle for the next exciting instalment of our trip back to south Africa, which was leaving for Cape Town. So six weeks after we arrived, we left England.
Two days out, we were in the Bay of Biscay. The ARK royal – was it called that? – sailed past us. What a magnificent sight. All the crew were lined up on deck, on the rigging, everywhere they could get a vantage point to salute us. It was a most moving sight, particularly as she only survived another 24 hours, as she was sunk by a U boat I think, near Scotland two days later.
There were many people on board. We were going to call at Ascension Island, where the new Head of Postal Communications and his charming wife were going to be left – for the duration of the war, as it turned out. Actually not quite, I think I remember them coming to south Africa to come and spend a holiday with us. What a windswept island.
We then called at St Helena – the island fortress where |Napoleon had been incarcerated by his enemies, the British. I remember going to his "prison" a very colonial house right in the centre of this mountainous, very lovely island. But my goodness – what a punishment. Banished to an island in the south Atlantic. I suppose he deserved it.
However, I , was very proud to stand in the place where his bed had been. My goodness, I was already such a Francophile then. ! We had a drive around the island which was a lovely one.
Going ashore was quite a feat. We were lowered in baskets which were slung over the ship's rails to land on a small boat waiting below; I do not believe that I ever felt any fear at this extraordinary exercise.
What a voyage out. Normally the sea trip took fourteen days. This one took six weeks. We were chased all over the South Atlantic by U boats. Boy was I frightened of them. ! We travelled apparently right across to the coast of Brazil and Argentina in order to escape their torpedoes.
Anyway, we eventually arrived in Cape Town to be greeted by our loving Papa.
We said farewell to the wonderful crew and Captain and returned to a very strange life in Port Elixzathe, but that is another tale.
The fate of the Dunbar Castle was sealed on her return to England. She was sunk by a U boat. Only one life was lost and that was of the captain. Apparently the mast fell over and killed him on the deck.
Truth, being always stranger than fiction, played a strange trick. Some eight years later, when travelling to Rhodesia by train to meet my husband-to-be's family, I went into the dining car to have a meal. There was a table with a lady sitting at it, and so I went and asked if I could join her.
Would you believe me if I told you that the lady at the table was the widow of the late captain of the Dunbar Castle!
It was like meeting a long lost friend.
Gosh, all those memories brought back because of the date today.
Wednesday 2nd September 2009, 5.45 BST.