This Sporting Life
Created | Updated Jun 22, 2003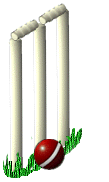 Corruption in Cricket
Midway through writing last week's review of England's peformance against
Pakistan, Sir Paul Condon1 published
his interim report on corruption
within the game of cricket. I don't know any fan of the game who didn't
start to wonder whether they still recognised the game at all. We have got
used to the idea of match fixing and shadowy betting syndicates in football.
Punters are familiar with John McCririck raging against jockeys holding back
horses who appear to be capable of winning and urging the Jockey Club to
enact their non-triers rule. You see it happens in other sports, but it is
simply just not cricket.
Only now it would appear that it is. This game that used to stand for
fair play is now linked with serious criminal activities. Condon highlights
allegations of murder, kidnap and drug use. Surely this is not the game we
know and love? The revelation that match fixing started in the 1970s within
the gentle world of English County Cricket really struck home to me. As
someone who would skive off school and head down to Canterbury to watch Kent
play, county cricket always seemed to be about long gentle days in the sun,
picnics and total and utter normality. We had no reason to doubt that the
result was fairly reached.
In the mid 1990s the first hints about corruption in the game came to
light. The revelations about the cash sums received by Australians Shane
Warne and Mark Waugh were, however, carefully hushed up by the Australian
Cricket Board. Match fixing in cricket did not explode into the public
domain until April of last year when the Dehli police revealed they had
intercepted and recorded a mobile phone conversation that appeared to
involve Hansie Cronje, the South African Captain, divulging information
about the team and agreeing that one player would lose his wicket before
scoring a set number of runs. Cronje would go on to blame it on Satan. Since
then five top flight players have been banned for life as a result of
individual countries match fixing enquiries; the afore mentioned Hansie
Cronje, India's Mohammad Azharuddin and Ajay Sharma and Pakistan's Salim
Malik and Ata-ur-Rehman.
Even England stalwart, Alec Stewart was named by an Indian bookmaker as
having accepted a sum of £5,000 in return for information about the team,
the weather and the pitch. Stewart has always denied the allegations,
stated that he will co-operate with the enquiry and has been backed by the
Lord MacLaurin of the English Cricket Board. The allegations against him
remain unsubstantiated and Stewart has yet to be interveiwed. Surely if the
game is to get its house in order, Stewart should have been questioned as
soon as possible. In the mean time he will lead out England against
Pakistan in the Second Test.
Condon is right when he says that
'Corruption continues to happen and the
potential... remains a real threat.'

Once the rot has set in it is hard to
hack out. While he has yet to name names, he is quick to point to his own
employers, the ICC, for not taking action before now. Quite simply put, if
cricket is to regain its fair play image, drastic action will need to be
taken. I agree with Lord MacLaurin that life bans are the only option for
players who have been found to transgress. Every individual nation's
cricket authorities need to undertake a thorough investigation regardless of
time or expense. However I also agree with Darren Gough, the England
Paceman, that treating all international players as suspects is not the
answer, nor is putting them under constant guard during matches and tours.

Sir Paul has highlighted that he believes that there are further
revelations to come. In the meantime his report is being studied by the
ICC, which will give its official reaction on June 18th. The future of the
game may rest on its conclusions.
Abi... Post Ashes Correspondant.
1Sir Paul is the Director of the Anti
Corruption Unit of the International Cricket Council.