Just for Fun
Created | Updated Jun 22, 2003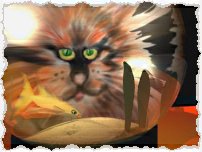 I have a new puppy, she's 17 weeks old this week, and she answer's to the name Kolin. People keep telling me to change the name, but I don't think that's fair, as she already knows her name.

What do you all think... if you have a view, write to me at the e-mail address printed below.

IT'S A WRAP

The weekly movie quiz for all you film buffs out there...answers, as usual, in next weeks 'The Post'.




GET SHORTY


The Mob is tough... but it's nothing like showbusiness.


Who plays Chilli Palmer?
In what year was the film made?
Who directed the film?
What is Chilli Palmers job before he gets into show business?
What role does Gene Hackman play?
JOKE OF THE WEEK

Greebo was getting pretty desperate for money. She decided to go to the nicer, richer neighborhoods around town and look for odd jobs as a handy woman.


The first house she came to, a man answered the door and told Greebo,
"Yeah, I have a job for you. How would you like to paint the porch?"


"Sure that sounds great!" said Greebo.


"Well, how much do you want me to pay you?" asked the man.


"Is fifty pounds all right?" Greebo asked.


"Yeah, great. You'll find the paint and ladders you'll need in the
garage."


The man went back into his house to his wife who had been listening.


"Fifty pounds! Does she know the porch goes all the way around the
house?" asked the wife.


"Well, she must, she was standing right on it!" her husband replied.


About 45 minutes later, Greebo knocked on the door. "I'm all finished,"
she told the surprised homeowner The man was amazed.


"You painted the whole porch?"


"Yeah," Greebo replied, "I even had some paint left, so I put on two
coats!"


The man reached into his wallet to pay Greebo.


"Oh, and by the way," said Greebo, "That's not a Porch, it's a Ferrari."




GET YOUR THINKING CAP ON

A question will be set every week for you all to try and answer. The question will be a mind-bending puzzle, and the answer will be given next week.

The question:-


When the fire alarm was sounded in the ten-storey building where she works, Greebo didn't bother making for the stairs, but jumped straight out the nearest window. How did she survive?




FUN ON H2G2

I enjoy browsing pages on H2G2, so I thought that I would bring your attention to some of the fun researcher written pages I have come across on my travels.

The title of this article made me want to check it out, and I was glad I did. Why don't you go take a gander (grin) at Fuzzy Duck - a Pub Game by

Zann



CLICK HERE




NAME THAT SONG

Each week I will print a quote from a song, all you have to do is guess the title of the song and who sang it.

This weeks quote:-




'In my dreams, I have a plan...'



THE WEEKLY ANAGRAM

For those that don't know, an anagram is a word or words, formed from rearranging letters from another word or words. An example anagram would be, Cat Got Beer, which reaaranged makes my name Greebo T. Cat.

Each week I will print an anagram and a clue to what it is. You will have until next week to get the answer.





ARIDLY DRUNK PIG


hint:Classic Writer





GREEBO'S BIG ONE

Would you like your say on the big issues of the day? Well here's your chance, click below to get transported to Greebo's voting booth, where you can answer the question of the week. Results will be printed next week.



VOTE HERE






LAST WEEKS BIG ONE RESULTS

Oh what a tangled web we weave, I didn't realise that last weeks question was going to be such a hotbed of intrigue!!!

The question was, 'What is the fav. beverage of Reseachers at H2G2'.


Coffee and Tea came in first place with 33% of the vote.

Milk and Non Alcholic drinks make me sick, both got 17% of the vote.

Cocoa didn't get any votes


So there you have it!!! The results of the very first, 'Greebo's Big One'. how much more exciting can life be?





LAST WEEK'S ANSWERS


It's A Wrap

GROUNDHOG DAY


Who plays Phil Connors?
Bill Murray
Punxsutawney is in which State of America?
Pennsylvania
Who directed the film?
Harold Ramis
How often does Groundhog Day occur?
Annually
What is Phil Connors job?
Weatherman

Get You Thinking Cap On


Q.What is as big as a hippopotamus,the same shape as a hippopotamus, but weighs a lot less than a hippopotamus?

A.It's shadow.

Name That Song


The Young Ones by Cliff Richards


The Weekly Anagram


MET HOT QUEER HEN =THE QUEEN MOTHER



AND FINALLY


Send your jokes, letters and anything else to me here:-


Greebo T. Cat



Please Write 'JUST FOR FUN' in the Subject Line, or your letter may be overlooked.


Thanks again everyone...

Greebs