h2g2 Skins
Created | Updated Jun 22, 2003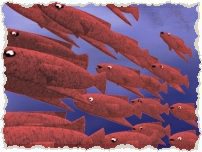 When h2g2 implemented a choice of skins during Ripley ver 1.0 in June of 2000, I was as skeptical as were many other h2g2 users.
Why the change? Everybody loved h2g2's goo. It was part of the site's charm.
But I figured if h2g2 created it, there must be a reason for it, so I started using Alabaster. As time passed, I became enamoured with the new
layout, the function buttons and the double ad banners.
As time passed (with me continuing to use Alabaster), I started to wonder what skins some of my online friends were using. So I asked. This led me
to wonder about skin use on the entire site. So I asked again.
Questions were posed in the Ask h2g2 forums and on Floor 42 which is an
external site with an 'H2G2 Support Forum'.
The results of my queries follow:
Ask h2g2
The most logical place to go was in the Ask h2g2 forums - I couldn't think of a better way to poll the entire community.
A total of 71 votes were cast in the forum. Of course, exactly 42 Researchers voted for Classic Goo. Twenty-one voted for Alabaster. Eight use both skins.
Many of the voters gave erudite reasons for their choices:
Oddly, Blue voted for Alabaster. However, Bluebottle voted for the Goo.
Both Peta and Mark voted for Alabaster. And Peta added the cryptic remark:
'I'm an Alabaster person, maybe because I rarely get to see the daylight!!'
Shazz says she prefers Goo, except when she's wearing her PostTeam hat, in which case she uses Alabaster.
Floor 42
I chose to poll the members of Floor 42 simply because they represent an older population of h2g2 users who don't tend to hang around in the Ask h2g2 forums.
The results were a surprising 15 in favour of Goo and 10 in favour of Alabaster. I say surprising here because one would have expected long-time users to be more unwilling to change to the new skin, but the percentages were much closer than those of the community at large.
A362828