h2g2 Post 11.09.2000
Created | Updated Jun 21, 2003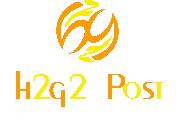 Posted: 11th September 2000

Welcome to this edition of the Post. Nearly all your regulars are here again this week. Private life encrouches on our resident poet Positive Feedback, however, but he will be back in a couple of weeks.
There are just over two weeks to go to the Dutch Meet. If you think that you may be able to come, please pop along and register your interest. With this in mind, the article from Pseudemys this week features Utrecht.
Voting for the Virtual Prez is extremely tight! Find out what is going on... or not Here. Expect lots of activity from the candidates during this last week... except Peregrin... find out exactly why Here.
The h2g2 Realisation Project, instigated by The Big C involves a large team of artists, modellers, researchers etc., trying to render h2g2 in 3D, for the Half-Life multiplayer. Read more about it in the Classified Ads
Any copy, articles, suggestions should be sent to The Editor. Please use this same address if you are interested in volunteering to become a regular contributor.
Roving Reporter




This Week: Quick Picks: New to h2g2.

The Roving Reporter looks at new places which have

recently appeared on h2g2.

View From The Queue




This week: The report on the diminishing queue of entries
waiting to be approved, plus some tips on how

to be inspired to actually write a guide entry.

h2g2 Life




The cartoon series with a punch! Did YOU feel like this
when the 'new' skin appeared?

Proms in the Park



A report from our intrepid researcher on a traditional,
and not so traditional, way to enjoy music.

Swiv's Oddessy



Working in Kilimatinde
Part Three... Working in the Kindergarten.