The h2g2 Poem
Created | Updated Feb 28, 2008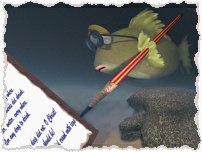 My Shirt
My shirt - my once old favourite shirt


That framed a younger form,


Now sits upon a growing heap


Of frayed and shrunk and torn.


With buttons that no longer meet


Where once they slotted nice and neat.


The dye is cast, this shirt is passed.


'twill be its final dawn.



Poetry by Various Contributors