The h2g2 Poem
Created | Updated Feb 28, 2008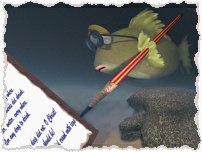 My Hubby

Oh, for the love of a good man.

He stands by my side.

Neither in front, nor behind.

His love cannot be denied.

After some five years together,

We were having a salad for tea.

Lettuce, cucumber, sardines and more,

Daughters and I tucked in with glee!

Hubby picked and pushed

The food around his plate.

I knew he had something on his mind -

Something I might hate??

Later, in the kitchen,

As I put away the bread.

He came up behind me

And this is what he said:

"You know I love your cooking,

Be it dinners, salad or baked beans.

Darling, I have to tell you -

I really HATE sardines!"

"Is that all?" I said,

Through laughter and the tears.

"You hate sardines? -

After all these years!"

For when I first invited him

To my home to eat,

It was a sardine salad,

He ate the lot - That's hubby, my Pete!