Did I Leave The Iron On?
Created | Updated Mar 21, 2005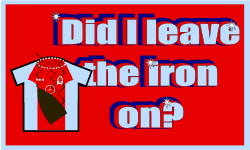 England make the grade in cricket, but can they do the same in the football?
Wow. Seems like a long time since I wrote anything for this esteemed publication. Here we go with a bumper set of sporting results, then.
The Series is not Parallel
England's cricketers won an excellent first Test at Lords, under the captaincy of Marcus Trescothick. New boy Andrew Strauss made a century in the first innings and looked well on his way to another before being run out by Nasser Hussain. Hussain went on to win the match for England before announcing his retirement from international cricket.
Whatever his knockers might say1, Hussain was one of England best captains and deserves to be remembered as such. He was always in touch with his field, even during difficult periods, and managed the batting order well and sensibly. Not least, England are losing one of their safest pairs of hands in the field.
After a whole bunch of rain at the beginning of the second Test (well, if you play cricket in Leeds, you're asking for it, in my view), and two high first-innings scores, most watchers were predicting a draw. However, thanks to some fine bowling from Harmison and Hoggard, England rattled the Kiwis for 161 in the second innings and went on to win by 9 wickets. Special mention must be made of Martin Saggers, who took a wicket with his first (long overdue, to my mind) ball in Test cricket, and Geraint Jones, who made a cracking century. Jones' ability with the bat and frugality behind the stumps is rapidly turning him into England's first-choice keeper.
Time for Tim
Sir Henman of Oxfordshire made a whopping run in the French Open. Now, bear in mind that Tim is a serve-volley player, a style that does not necessarily lend itself to clay. So, to make it through to the semi-finals is an immense achievement, equal to if not greater than Rusedski reaching the US Open final a few years back.
Now, an appeal to the general public. In a few weeks time, Tim Henman will be playing at a little insignificant tennis tournament known as Wimbledon. In previous years, the British public have pinned unrealistic hopes on this man. May I propose that, no matter what stage of Wimbledon Tim reaches, no matter if he gets knocked out in the second round to an unknown Uruguayan, that the nation remember a valiant performance at the French Open, surely one of the best in his career.
Sportsmen make a mockery of Post Predictions
As GreyDesk will tell you, predicting sports results is not my forte. Marcus Trescothick has made two centuries since I decided he should be pensioned off, England won the first Test and Paul Casey has failed to win a tournament, throwing away 4 shots at the weekend to lose the Celtic Manor open on a playoff to world number 255, Simon Khan.
This week's prediction, then, is for the Canadian Grand Prix, this weekend. One would have to take a risk with a prediction here; it has never been Michael Schumacher's favourite circuit, so my money would go (each way, naturally - I'm not that daft) on Juan-Pablo Montoya. The Williams car has struggled so far this season, but has good straight-line speed, looks good under sharp braking, and should perform well at Montreal.
I'm sorry, was something happening in Portugal?
Yes, Euro 2004 is nearly upon us; every Sunday broadsheet has issued a 60-page preview special; every tabloid is firing up all its most offensive anti-French headlines; Garth Crooks is sitting up in bed writing bizarre football metaphors, and the BBC are desperately looking for a way to sack Ian Wright. So, what may go down over the next few days?
Winners? Italy, by a snifter, I reckon.
Runners-up? This depends on the vagaries of the second round draw, but I'll plump for Portugal. Home advantage always seems to give an underachieving team that added edge.
Third Place? Who gives a stuff?
Man of the Tournament I believe some chap called Thierry Henry has played quite well this season...
How will England do? Lose against France, draw with Croatia, muller the Swiss to scrape through to the second round, where they'll take on Spain, win a high-scoring match, before being over-run by Italy in the Semis.
England men to watch Steven Gerrard has been receiving all the attention, but Frank Lampard is still my man to shine. Back Michael Owen to discover a rich vein of goal-scoring form.
Who will Sven regret bringing? David James, of course.
Tournament disappointments Holland (sorry Shazz). If Germany get their act together I can see the Netherlands disappearing in the first round. The team are looking old and tired and Dutch football is far from the tour de force it used to be2.
Outsiders? The Czech Republic are increasingly growing in stature as an international team and are easily capable of reaching the Semis. Denmark rarely put feet wrong and may also be worth a couple of quid.
Next season's Premiership signing? Kimm Kallstrom of Sweden. He likes to play in the hole3, has two good feet, and would fit in perfectly at Newcastle or Spurs. Look for him to do something impressive in the group matches.
On a final note...football adverts. I haven't quite seen anything this year as good as Eric Cantona's boat, but Thierry Henry in the hotel room (with the Man Utd team saying 'Boo!') is pretty good, as is Brazil v Portugal's 'Ole!'. Mopeds to Portugal is OK, but a bit too silly. Carling's 'Shirts v Skins' is OK, but is rapidly getting too much airplay (in its tragically shortened version), so is sinking down the list. Any more nominees for favourite football advert? Let me know.
Several A/K/A Random's 'sporting blues'
Hello, AmSports fans. The big news across the pond is, of course, the passing of ex-sportscaster, ex-actor and former President Ronald Reagan, plus the remembrance of D-Day plus 60 years, but AmSport goes on - except for June 6, 1944 when Major League baseball shut down for the day as the nation huddled up with their radio sets, looking for news from the BBC.

Pro baseketball has just entered its championship round, matching the Detroit Pistons and the Los Angeles Lakes in the final, and the pro hockey championships will be decided past my deadline between the Calgary (Canada) Flames and the Miami Lightning. (Not sure I know why Calgary is the Flames, but there's plenty of lightning in Florida.)
The only other major sports news was the running of the Belmont Stakes, with thoroughbred Smarty Jones going for the third leg of horse racing's Triple Crown. That means wining the Kentucky Derby, the Preakness and Belmont, something only eleven horses have done in racing history. Smarty did not become the 12th, leading after a mile-and-a-quarter of the race, but the finish line is a mile-and-a-half away (12 furlongs) and 36-to-1 longshot Birdstone won by a length.

And this concludes the overseas version of Did I Leave the Iron On? Baseball's season is 1/3 of the way done, and I'll have several and random observations in my next post for the Post. This is seldom, a/k/a random, over and out.
Did I Leave The Iron On? Archive
Master B

with Several a.k.a. Random 


1No! His criticisers. That's disgusting!
2
Quite a few here tend to agree with you although I may well be lynched when I hang my St George flag out in the middle of the sea of orange which has already draped itself across my street!... ed
3Don't we all?