Haiku Corner
Created | Updated Apr 28, 2004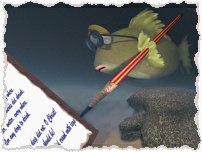 The Seagull On The Floor
Stone unmoved

Gathers mud

Restless rain.

Quiet morning

Sows seed

Pickles and marmalade.

She drops anchor

When the dish is served

Tired flamingo legs.

A pillow of feathers>BR/>
On a bed of primrose

Deep electric sleep.

She loves

Wind and rain

Restless cry of a lost seagull.

Waves roll

Like huge serpents

Without a net.

Streets flood

Cars stuck

Endless confusion.

As she wakes

A door opens

The seagull falls to the floor.

Dream or real

She loves it

The seagull on the floor.

Stone moves

Gathers no moss

Rolls like her dream.