Sporting With Egon
Created | Updated Apr 14, 2004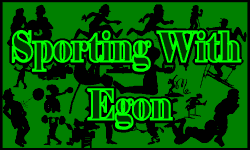 Still sign of Egon this week I'm sorry to say, so we hand straight over to Several aka Random for his sporting blues.
Well, and let's see... on the AmSports front this week we have golfing, perhaps a little baseball, and possibly some soccer, not to mention the National Hockey League playoffs just underway and this other stuff that I like to write about.
That would be one Charlie Hamilton, a 30-ish computer guy from outside Boston, whose wife of seven years innocently asked her hubby what one dream he's had, that he would wish could come true. He thought about that...
Charlie quit his job, packed up his bicycle, hopped a plane to Atlanta, pedalled to the ballpark and watched a baseball game in Atlanta's Turner Field, then promptly started pedalling to Florida. Charlie wants to see a baseball game in each of the 30 stadiums in 27 cities, a six-month, 11,000-mile journey across America and back, in six months' time, arriving back home in Massachusetts in late September, having seen a Major League baseball game in all 30 parks.
Charlie expects to spend anywhere from $10,000 to $20,000 on the trip, is willing to take a bus or train in extremely foul weather, and will be raising money for cancer research for each mile he pedals, through internet donations. He has a cell phone and a laptop (in waterproof bags, I presume) and I shall attempt to follow Charlie as he makes his way north, west, and back east.
Now how's THAT for sports news, huh? Stuff you won't find on your normal AmSports websites and teevee channels, I tellya!
On to more mundane items. Golfer Phil Nickelson sunk an 18-foot birdie putt to win the Masters Gold Championship in Augusta, Georgia Sunday, for a one-shot victory over South African Ernie Els at the fabled Augusta National Golf Course. Augusta is noted for its blossoming magnolia trees along the fairways, much as St Andrews and other Scottish courses are noted for their fairway bunkers. Nickelson had failed to win in 42 previous chances at winning a 'major1' title and the left-hander not-so-calmly stroked the final putt into the back of the hole as the gallery of spectators (and a national teevee audience) held its' collective breath... and exploded when the ball dropped. So did Nickelson. He's no longer 'the best golfer never to win a Major.'
Reportedly, Ernie Els was on the practice putting green, hoping Nickelson would only par the 18th, forcing a playoff, but simply put his putter back in the golf bag and walked to the press tent to offer his congratulations when he heard the roar of the crowd.
Oh, let's see, what else... baseball? This team won and that team lost, and the beloved Cleveland Indians need a bullpen that can hold a lead and close out games, but it's still too early in the season to really tell anything. Freddy Adu in pro soccer? Same thing this week, he played the second half, didn't score, fouled and was fouled, didn't score, but the stadium was packed, so he's earning back the $1.5 million in contracts he and his mom signed.
I wonder... who's doing Freddy Abu's income tax? It's the Ides of April over here, income tax day (I'm lucky, my dependent minuses my wages to the point where I earn less than I make) when the Internal (infernal) Revenue (money-changers) Service (I'll do you a service, buddy!) annually collects their pound of flesh (and occasionally returns an ounce or two back if we have diligently kept our receipts and can figure out which one of the sixty-eleven deductions to file it under.)
So let's see... who am I? This isn't the Indians' Fan Forum, so I'm not saloonatic or milo74, then I must be several, a/k/a random, signing off from the south shore of the Great Lake named Erie... and the ducks quack up. See you in AmSports.
1A 'major' is the US Open, the British Open, the Masters and the Professional Golfers' Association (PGA) title.