Ground Assault Forces G.A.F.
Created | Updated Apr 5, 2004
Welcome to the Ground Assault Forces of Terrania (GAF). The GAF is part of The Terranic Free State Armed Forces (TFSAF). The TFSAF is in overal control of Supreme Commander Reefgirl.
But here is where you'll find the ever-ready, elite and highly trained fighting guards of Terrania. Albeit a wee bit tipsy but hey, we all gotta unwind, right?

I am General Creachy, head of the GAF. I take my orders from Reefgirl and Verc. If neither of them are around I tend to make things up as I go along, and that can get dangerous if you happen to be invading at the time!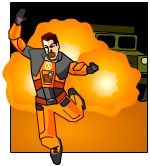 Here's a snapshot of one of our boys in action. Admittedly it was his home distillation kit that was exploding but that was some pretty nifty movement none the less.









General

Brigadier

Colonel

Major

Captain

Lieutenant



Sergeant

Corporal

Private