The h2g2 Poem
Created | Updated Feb 8, 2007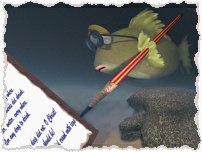 I Will Beat You!

You come to laugh and you come to haunt,

You prod and you gibe and still you taunt!

You hide in the corners and gabber out loud,

I will fight you and stop you. I will stand proud!

Go away! Please stop your antics!

I don't need your silly white sticks.

I will ignore you, I'll just let it pass,

As others will come and grind you to ash.

So I shall keep on scratching my patches.

I've thrown away all lighters and matches.

I have warned you! I will beat you yet!

I will never take another cigarette!

Three years have passed, I have been in luck;

Not once have I returned to that filthy muck.

There was a time I felt like hell,

I admit, those little patches did me well.

For those who have tried, then returned to their addiction,

One day you will get there with full conviction.

You can manage it too, dagnabbit!

Giving up on that filthy habit!